Living Room Furniture Buying Guide
by Stephanie Petersen
Published April 28, 2010 | Updated June 25, 2015
Whether you're furnishing a new home or replacing worn out furniture, you need living room furniture that fits your home and your style. This buying guide will help you find your style and create a plan for the pieces you'll need to create the perfect living room.
Buying Living Room Furniture: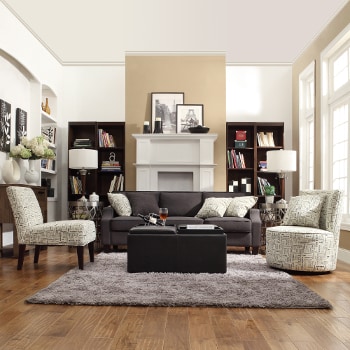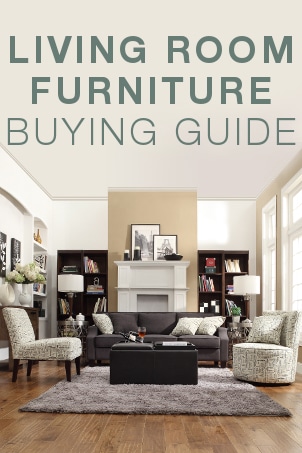 Shop Living Room Furniture ▸
Find Your Decor Style

Most people know what they like and what they don't like. Between those two extremes, there are plenty of living room furniture choices. If you have no idea where to start, look in your closet and see what colors you choose to wear. A closet full of neutral colors with few embellishments means modern living room furniture might feel right to you. If you've always owned a leather jacket, a leather sofa is probably going to feel more your style than a fabric couch. If you'd never leave the house without your designer handbag, consider the chic elegance of contemporary living room furniture.

Measure the Room and Sketch It on Paper

Hands-on people even stack boxes to get a feel for the dimensions of the furniture they are considering. (If you've just moved in, you'll already have boxes for this.) Make a wish list of the furniture pieces you want and figure those items into your measurements. Remember to consider the traffic flow and allow space to comfortably walk around your furniture.

Create Your Seating Area

Face the sofa toward the main focal point in the room, often a fireplace, but it could also be a great view out a window, or it can be your entertainment center. Once you've placed the sofa, position your loveseat and chairs near it to create a conversation area, usually at ninety degrees to the sofa; if the room is on the small side, you may want to just have chairs instead of a loveseat. If the chairs have low backs that won't block the view to your focal point, place them across from the sofa. Don't be afraid to have this whole arrangement in the middle of a room. Pushing all the furniture up against the walls may make the room seem bigger, but a cozy feeling is more comfortable, and you'll be able to hear the conversation with people sitting on other chairs in the room.

Add Accent Furniture

Place a coffee table in front of the sofa, leaving about 18 inches for walking space. Add a sofa table behind the sofa if it isn't sitting against a wall. Place end tables next to the sofa and chairs. If you're including an entertainment center in the room, center it across from the sofa for optimal viewing. Bookshelves work against walls, or, if you have two, they may work on either side of your entertainment center to create a whole wall of furniture. Remember to keep everything balanced: For every heavy or tall piece of furniture, there should be another one across from it.
Complete the Room with Style
Don't forget to consider your finishing touches as you choose your furniture pieces. Good furniture is just the beginning to a beautiful room.
Decorate blank walls with art. Remember to leave about six inches between the top of the couch and the bottom of the frame, and keep art at eye level. Check out our art buying guide for tips on choosing art that suits the room.
Good lighting will show off your new living room furniture. Include ceiling light fixtures to give the room a glow, small lights to spotlight art, and lamps on accent tables to give the room depth.
When you add an area rug to your living room, you anchor the furniture and define the room's space. Choose an area rug large enough to have at least the front feet of the major pieces of furniture on the rug. You don't need an area rug in a carpeted room, but adding one on top of the carpet can visually pull all the furniture together. Contrast the rug and furniture; buy a neutral rug for the room with a patterned fabric sofa, and vice versa.