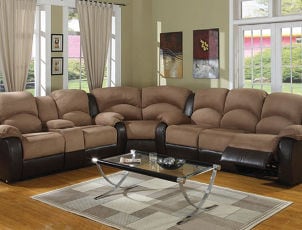 Whether you're furnishing your first home or just updating your living room, you need living room furniture that fits your current decor and is comfortable for your family and friends to relax in. With armchairs, sofas and other living room couches to choose from, picking the right style can be somewhat overwhelming. This buying guide will help you sort through all the living room furniture and help you decide on the pieces that will work best in your living room.
Sofas:

Tight-back vs. loose-back: Tight-back sofas have upholstery shaped to the sofa's frame. This can give the sofa a formal look when the sofa includes buttons to keep the foam from shifting and a contemporary look with a smooth, one-piece look to the cushioned back and seat. Loose-back sofa cushions are not attached directly to the frame and can be removed. Some sofa-back cushions are attached at the top and left loose on the bottom. Note that if arranging and rearranging the pillows makes you crazy, you'll want to stick to a tight-back sofa.

Feet vs. skirt: Traditional feet are usually made of ornately carved wood, while modern furniture and contemporary furniture feet are smooth and straight and made of wood or metal. Depending on the crispness of the pleats, a couch with a skirt can give the room a casual look (flowing ruffles) or a traditional feeling (box pleats).

Arms: High arms, low arms, square arms, curved arms, upholstered arms or wood arms: Consider both the appearance and what you'll want to lean against if you ever nap on the couch. You can also choose a sofa with no arms; these living room couches make a small room look larger and often have a modern design.

Cushions: Generally, the number of cushions is a good way to decide how many people will be sitting on the couch. Many modern sofas have a one-piece cushion, and any number can sit there as long as they all fit, but in traditional and loose-back sofas, the cushions are divided. Sofa cushions may be loose or strapped in place.

Frames: Sofa frames are made of wood pieces that are glued and/or screwed together. Hardwoods are more expensive than soft woods, but they make up for price with longevity. Check the weight capacity and make sure the sofa has enough support beams. Also, make sure that the sofa is made with California fire foam, which is more flame-retardant than regular foam.

Upholstery materials: Sofa upholstery materials range from traditional upholstery fabrics to microfiber and leather. Choose a more durable material, like leather, if your sofa will be seeing a lot of use and a microfiber couch with a stain-resistant coating if spills and messes are a concern. A more expensive fabric doesn't necessarily mean a more durable fabric. Expensive silk couches may look beautiful but won't fair well around pets or children.

Proportion and length: Fit the sofa to the room and to the sitters. If your family is tall, find a longer sofa with a greater seat depth to accommodate longer legs. If you are choosing a couch for anyone with limited mobility or for an elderly person, select one with a shallow seat to add ease to standing up. If you have a large room to fill, pick up a living room sofa that will fill the room without cluttering the space; a sectional sofa is an excellent choice. Sofa sets are also a great idea for large living rooms.
Other Living Room Seating:

Living Room Furniture for Organization:

Entertainment centers: Entertainment centers give you a place to mount and store all of your media equipment. TV sizes and shapes change constantly, so even if you have a wall-mounted flat-screen TV, entertainment centers will give you the extra room to place all of the extras that go with your TV.

Types of Entertainment Centers

TV stands and media stands: These hold your television plus a few other components and often have places to store DVDs and other media. A television stand works well with flat-panel TVs because of its narrow profile.

Entertainment stands: This furniture comes in many sizes, so, in addition to your TV, you can store all of the electronics you need to stay entertained.

TV cabinets or entertainment armoires: Close your television off from the room when needed in a gorgeous piece of furniture. An entertainment armoire has the component and media storage you need, plus doors to hide it away when you're not using it.

Shelves and media storage: Store your books, magazines and movies with bookshelves and media storage. Bookshelves provide a place to keep and display your treasured books and other collectibles. Wall shelving units and mounted bookshelves are also available for the smaller living room spaces. Media storage is ideal if you have a large collection of DVDs, video games and CDs.
Accent Living Room Furniture:

Tables: The variety of coffee, sofa and end tables available in our living room furniture department can give you a place to set things, surfaces for display and functional spots for items like lamps.

Types of Living Room Tables

End tables: When placed at either end of the couch or next to a chair, end tables are great for holding lamps or for setting drinks and snacks on while watching TV. For the best value, look for coffee and end tables in sets. For different-sized end tables that can double as a coffee table, nesting tables make a versatile choice, changing as the room functions change.

Coffee tables: Coffee tables hold any variety of things while you sit on the sofa. Coffee tables can be sleek and modern or traditional, including round or oval shapes. Lift-top coffee tables add storage options to a room.

Sofa tables: An excellent way to add convenient surfaces to a living room, sofa tables are used for more than defining spaces; their height makes them perfect for TVs, and their simplistic style makes for a beautiful console table or entryway table.

Accent tables: Accent tables can include any small living room tables, such as side tables and console tables. An accent table can be a delicate marble side table or a half-moon or corner accent table.

Ottomans: Ottomans of all colors, shapes and sizes are available for you to rest your feet on. Large ottomans can double as coffee tables, while storage ottomans make handy places to stash a blanket or some magazines. Leather cube ottomans and fabric cube ottomans can lend a touch of sophistication or casual fun to your living room's decor while still being completely functional for your space; when you're short a chair, ottomans fill in as seating.

Benches: Benches play many roles in your living room. A wood bench or leather bench would make a rustic coffee table when not being used as seating. An upholstered bench adds soft seating and, if the height is right, may even work as an ottoman. A window bench will take advantage of the view and create another seating area, and a storage bench gives you another place to keep blankets and magazines.

Buy Living Room Furniture
Back to Guides Directory