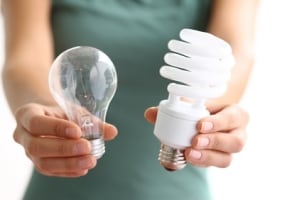 There are many different types of light fixtures to choose from when designing the lighting in your home. But light fixtures are not the only concern when it comes to lighting design. It's also important to consider which types of light bulbs to use in the different light fixtures throughout your home. The look and feel of your home can be drastically improved with the right light bulbs. From incandescent to fluorescent, get the facts about light bulb types and light your home like a pro.
Light Bulbs:

Watts: A watt is a unit of power. One watt is equal to 1/746th horsepower.

Lumens: A lumen is a unit of light. 1600 lumens is equal to about 100 watts.

Light bulb life: The life of a light bulb is how many hours the bulb will last.

Incandescent: Incandescent bulbs have a filament inside which glows when it is heated by electricity. Incandescent bulbs range between 15 to 200 watts. They cost very little and can be used with dimmer switches. Incandescent bulbs are offered in a variety of colors to suit your taste and home decor.

Incandesent color options:

Clear bulbs emit a strong clear light.

Soft white bulbs soften the edges of light in a room and are the most popular lighting in homes today.

Yellow bulbs are usually used to discourage the gathering of bugs in outdoor areas.

Amber bulbs imitate the look of gas flame lighting.

Blue bulbs filter out the yellow aspect of an area.

Incandescent bulb shapes: For many years incandescent bulbs were the only type of lighting available. Still our favorites in lighting, they are now sold in a variety of shapes for different lighting uses.

Incandescent bulb shapes:

A-line bulb is better known as the standard light bulb and comes in multiple watts.

Candle bulbs are decorative and often used with accent lamps.

Ceiling fan bulbs are made specifically for these light fixtures.

Flame bulbs are similar to a candle bulb but are wrinkled to appear flame-like.

Flicker bulbs emulate a flame and are most often found in candelabras.

Globes are round, need no covering and are used often in vanity lighting around mirrors.

Reflector bulbs are used in recessed lighting or as spotlights.

Tubular bulbs are handy under counters, in cabinets and over paintings or pictures.

PAR bulbs (parabolic aluminized reflector bulbs) are safe for outdoor use and come as halogen bulbs or regular bulbs. Halogens will last longer than regular spotlights and are less likely to fail in extremely cold weather.

Halogen: Halogen bulbs are the same technology as incandescent; however, they are more efficient, last much longer and produce more lighting for the same expenditure of energy.

Flourescent: Fluorescent light bulbs have trapped mercury vapor in their tubes and a coating on the inside. Electricity makes this vapor send off an ultraviolet ray and the coated tubes make the rays visible as light. Fluorescent bulbs last for years and are the most energy efficient lighting you will find. The long-term savings are great, since they use much less wattage than regular incandescent globes and last nearly sixteen times longer. Fluorescent lighting won't work without a ballast (a device used to limit the amount of current in an electric circuit).

Modern fluorescent lighting offers color options instead of the standard greenish bulbs. The different colors are used for different reasons:

Flourescent color options:
Cool white bulbs are used most frequently in offices, schools and workshops.

Soft white bulbs lend a soft aura to a room.

Natural color light bulbs gives a high-color interpretation of colors in the area.

Sunlight bulbs are nice if light from the outdoors is minimal or low.
Light Bulb Tips:

Three way switches, most often found in floor lamps, allow for three levels of light. Most allow for 75-100-150 watt lighting. However, if you do not put a three-way light bulb in these lamps, the three-way switch will not work properly.

To maximize your budget and minimize energy use, replace your most-used lighting fixtures with new, energy-efficient light bulb. You probably use your living room lamps, kitchen overhead lights and porch lights the most. It has been noted that if every home changed their old light bulbs to energy-efficient bulbs, we could save billions in lighting costs every year and significantly decrease greenhouse gases from our power plants. At Overstock.com, we want you to save money every way you can, even if it is on your energy bills!

Buy Lighting
Back to Guides Directory