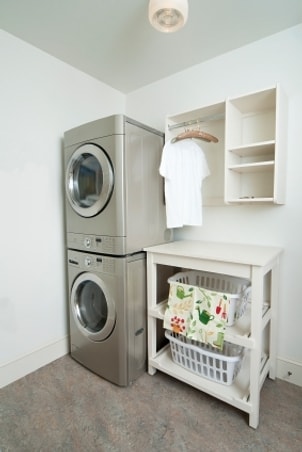 Choosing a washing machine is a big decision, but an LG washer is a great choice for a variety of reasons. LG washing machines come with a number of features and advantages that make them ideal clothes washing machines. Not only is the brand known for quality machines and innovation, but its washers and other appliances are often highly rated by consumers. Keep reading to learn more about LG appliances and washers.
LG Washing Machines:

History: LG was founded in 1958 under the name Goldstar. Within the next decade, the company started producing the first washing machines, refrigerators and air conditioners in Korea. In the 1990s, the company changed its name to LG Electronics and purchased Zenith, a North American-based electronics company. Since then, LG Electronics has adopted the motto, "Life's Good" and sought to help consumers live that motto with reliable and energy-efficient LG washers and dryers and other LG appliances.

Types: LG washers come in various models. There are three main types of LG washers available: traditional, stackable and steam washers. Traditional LG washers and dryers are large and intended to sit side by side in your laundry room. Stackable LG clothes washers are smaller than traditional washers and can be placed above or below a stackable dryer. LG steam washers are new: Instead of using water to clean clothes, they use steam, which can save you up to 8,000 gallons of water per year compared to traditional washer models.

Sizes and loading: LG traditional washers start as small as 3.5 cubic feet and can be as large as 7.4 cubic feet. Compact LG clothes washers can be as small as 2.7 cubic feet, while LG steam washers and stackable washers range in size from 4.2 to 4.5 cubic feet. Most of the LG washers on the market are front-loading, though you can still find a few top-loading models. Some of the new models are washer/dryer combos in one machine, so you don't have to move clothes from one machine to the other.

Features: Different LG washer models come with different unique features. For example, some models have the True Balance anti-vibration system that minimizes the vibrations caused by the movement of the washer. This means the washer can be used even on the second floor of a home. Other LG washing machines feature a wash/rinse optimizer, which senses how much detergent is being used and adjusts the water softness accordingly. LG steam washers include the Allergiene feature, which removes up to 95 percent of common allergens from the laundry. The cold wash feature provides the same deep clean of warm water without the extra energy, saving you anywhere from 60 to 80 percent on your energy bill. Don't forget LG's speed wash cycle; it can have your clothes clean and fresh in only 15 minutes.

Buy LG Washers and Dryers
Back to Guides Directory