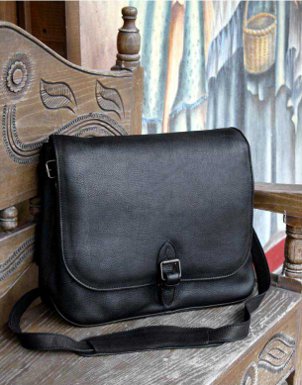 With the wide variety of bags out there, choosing between leather messenger bags and leather briefcases can be difficult. Each has so many good points that it can be hard to know which bag is better for you. Overstock.com has assembled this guide to help you know the differences and make an informed choice on your next bag purchase. Keep reading to learn more about leather messenger bags and leather briefcases.
Messenger Bags and Briefcases:

Look: When you buy messenger bags or briefcases made of leather, you're interested in a particular look. Leather messengers and briefcases are both elegant and professional, making either bag a great option for the office. Leather briefcases often look more like something an executive would carry to work, while leather shoulder bags are great for those who commute to work via mass transportation or bicycle. Whichever leather bag you choose, be sure to take good care of the leather to maintain its classy look.

Price: Because you're looking at leather bags, which can be expensive, price will be a consideration. Leather messengers are generally more affordable since leather briefcases carry an aura of professionalism and often look like executive cases. However, either bag can be pricey depending on the fancy options you choose. Italian leather messenger bags and briefcases represent the high end of leather bags, while simple black leather bags and briefcases are versatile and affordable.

Style: Leather shoulder bags come with several stylistic options, such as a shoulder strap and a handle, flap-over top, organizer pockets and more. Leather briefcases often have similar options; in fact, some briefcases have removable shoulder straps so you can convert them into black leather bags when necessary. Converted or not, the versatility of leather messenger bags can't be beat. A new development in messenger bags is the vertical messenger bag, which holds the same things as other leather bags but with a totally new look. Choose a vertical messenger bag when traditional leather briefcases and messengers just won't do. Remember that many messenger bags and briefcases are designed to safely transport laptops and other valuable items; just look for extra padding and special laptop compartments if you need a laptop bag.

Buy Leather Messenger Bags
Back to Guides Directory