Latest Trends in Bathroom Vanities
by Stephanie Petersen
If you're planning a bathroom remodel, you're probably shopping for a new vanity. Changing the vanity can make a big impact in the overall style of the bathroom. If you need to bring your outdated bathroom into the 21st century, look for these hot trends in bathroom vanities.
Bathroom Vanity Trends: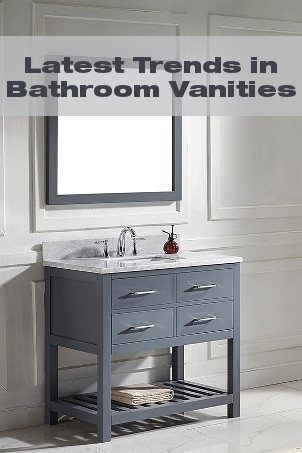 Shop Bathroom Vanities ▸
Floating vanities:

Traditional vanities sit on the floor. Floating vanities are attached to the wall and seem to float above the floor, usually with a clearance of about 8 to 12 inches. The effect feels airy and spa-like. It's a clean, modern look that will make a small bathroom feel larger. You can find floating vanities in a variety of materials and finishes.

Rustic modern vanities:

If you are into DIY, you could transform an old dresser into a bathroom vanity. For everyone else, there are rustic modern vanities that look like a time-worn piece of furniture, but they have the sink and countertop (and often even the faucet) already attached when you buy them. This gives you the look of a vintage piece but with much less work.

Vanities with vessel sinks:

A vessel sink is like a bowl that sits on the countertop. It's an eye-catching, unusual look that works as well in a master bath as it does in a powder room. Contemporary bathroom vanities with vessel sinks often have rectangular, white basins. Traditional vessel sinks are usually more round and made of materials like stone or marble. If you want to make a bold statement in the bathroom, look for a vessel sink with a graphic design.

Pedestal vanities:

The vintage look of a pedestal sink gets an edge when you add metal. These bathroom vanities are mounted to the wall at the back, and they rest on metal legs, often with a bar across the front where you can hang a hand towel. The look is both minimalist and retro.

Vanities with carved details:

Ornate carvings make these bathroom vanities special. With details that would be just as at home in a formal living room, these wood vanities are classic and elegant. They're usually stained a darker shade of brown and have countertops made of granite or marble.