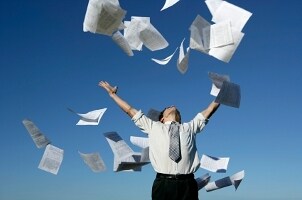 When shopping for printers, your main choice is between inkjet and laser printers. Laser printers have long been the standard for high-speed printing in high detail. Many offices feature a large laser printer to handle the heavy workloads that businesses place on their printers. This laser printer buying guide will help you determine how to choose a laser printer with the speed and print quality that your home or office needs.
Buying a Laser Printer:

Printer capacity and duty cycle: Pay attention to the manufacturer's recommendations about duty cycle -- the recommended monthly printing volume. If you do a lot of printing, you may want a laser printer with a higher duty cycle, rated in number of pages. If you consistently print more than your laser printer is rated for, the extra volume may produce premature wear on printer components. Medium-size laser printers can print as many as 20,000 pages or more per month.

Printing buffer: When a printer is used by numerous people on a computer network, it sometimes gets multiple print jobs at once or runs out of toner. The printer stores incoming print jobs in a printing-memory "buffer" until it can resume printing. More memory in the buffer means that your laser printer can store more print jobs until it's able to handle them.

Printing speed: Speed is a strong point for laser printers. Laser printers can maintain their extraordinary level of quality while still printing far faster than a typical inkjet printer. In a high-volume office, a high-speed laser printer can keep up with the many print jobs. Two factors affect printing speed:

Color printing: Color laser printers often lay down one color at a time, requiring that the page move through multiple print heads to be completed. This increases the time your laser printer spends on each page.

Print resolution: Higher resolution printers can produce documents and images in higher detail because they print more dots per inch (dpi). Printing more dots does take more time, though.

Monochrome and color laser printers: Laser printers do print in color, although monochrome printing is significantly faster. A color laser printer uses magenta, cyan and yellow toner to produce color images. Your laser printer will produce high-quality images at a relatively lower cost per page than inkjet color printers.

Networking and connections: USB cables are the most common way to connect a laser printer to your computer. Of course, if you want to share your laser printer over a network, look for a laser printer with an Ethernet cable, Wi-Fi connection or Bluetooth signal. A network connection is a must for office printers, and you can expect any high-capacity laser printer to have network connection options. Wireless printers will be able to connect to a home or office wireless network.

Toner cartridges: Instead of ink cartridges, laser printers use toner cartridges, which contain a powdery substance called toner. The printing process for laser printers is quite different from inkjet printers. Toner cartridges for laser printers are typically much bigger than inkjet cartridges, so they last much longer. This, combined with the efficiency of your laser printer, makes the cost-per-page much lower with a laser printer than other printer types.

Buy Laser Printers
Back to Guides Directory