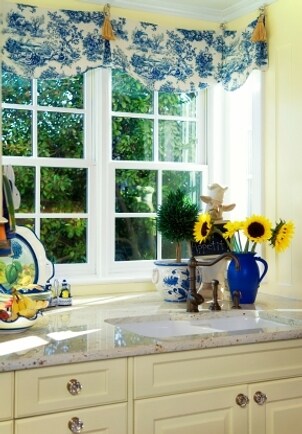 Over time, the kitchen has moved from being located in a separate building behind the house to a walled-off room inside the house to, finally, where it is today: the heart of the home. Most modern home layouts feature a kitchen that is open to a family room, creating a large area where family and friends can gather. Get creative with your kitchen linens and decor and enjoy a space that is both functional and pleasing to the eye. Read more about some of the most popular kitchen decorating ideas below.
Decorating Your Kitchen:

Vintage or country: For a warm, country kitchen, give your kitchen an old-fashioned feel with vintage-inspired kitchen linens, decor and appliances. For a dramatically new look, invest in some new large appliances and kitchen furniture with an old-fashioned aesthetic. A stylized new oven and range with a vintage design makes a statement in any kitchen. A farmhouse sink is another major purchase that can become the focal point of the room. Continue the country kitchen theme with a lodge-pole pine table or kitchen island with a hanging pot rack above it. Display your great grandmother's fine china in a china hutch. Finish the look with the right kitchen accessories: from dishtowels, tablecloths and kitchen rugs decorated in vintage themes to old-fashioned dinnerware and rustic cabinet hardware.

Contemporary and colorful: Many homes have neutral kitchen decor: the cabinets, floor and countertops are all shades of tan, taupe, beige or brown. If you like a little more color than that, enliven and personalize your kitchen space by adding splashes of color. If you're unsure about color, try small changes at first. Lay down a brightly colored contemporary area rug or hang some vibrant window curtains. Add colorful seat cushions or dining chair slipcovers to your stools and chairs. If you don't want to paint your kitchen walls, think about adding some kitchen wall decor like a colorful tile backsplash or some bright wall art.

Modern and green: Modern kitchens feel clean, streamlined and sophisticated. The look is minimal but elegant. With a modern kitchen theme, it's perfectly acceptable to leave the decor bare and industrial, or you can beautify the space by adding touches of Asian-inspired or other minimal decor. Stainless steel, stone and other natural materials are important design elements in modern and green kitchens. Colors are usually minimal but saturated, with the focus being on textures and interesting lines. Highlight your modern kitchen design with an industrial-inspired stainless steel faucet, modern chandeliers and pendant lights, and nubby, organic fabric for your kitchen window curtains.

Buy Kitchen Linens and Decor
Back to Guides Directory