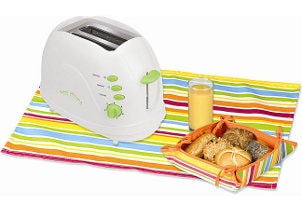 Kalorik was established in Belgium in 1930. Since then, Kalorik has become a household name synonymous with fine engineering and unique product development. As one of Europe's first manufacturers of small electric appliances, the company developed one of the very first electric toasters as its initial product. Kalorik has continued to create quality, innovative toasters by mastering the latest technologies and designs. This Kalorik toaster buying guide will help you figure out which Kalorik toaster will work best for you.
Buying Kalorik Toasters:

Kalorik Aqua: The sleek, shiny Kalorik Aqua toaster combines form with function for a truly beautiful piece of art. This toaster has two extra-wide slots and a stainless steel finish, as well as many other useful features. The variable browning control produces perfectly toasted bread every time, while the cancel, defrost and reheat buttons make this toaster a versatile kitchen appliance. The slide-out crumb tray makes cleanup a breeze.

Kalorik Silver: The functional Kalorik Silver line of toasters toasts consistently every time, and this toaster is as fun as it is uncomplicated. Kalorik Silver toasters have two extra-wide slots with adjustable guides that hold everything from bagels to waffles to frozen pastries. The Kalorik Silver also has a unique built-in bun warming rack, as well as variable browning control and a cancel button.

Kalorik Aztec: If you're a serious toast lover, the Kalorik Aztec is the toaster for you. This two-slice toaster has a bun warming rack, a bagel setting, a high-lift lever and a removable crumb tray for your convenience. Don't forget its extra-wide and deep slots that can accommodate even the thickest kinds of breads. A satin copper finish and chrome buttons finish off the look of this stylish toaster.

Kalorik Team: The stainless steel Kalorik Team toaster is an excellent addition to your kitchen. It has the classic extra-wide slots with adjustable guides to toast a variety of bread types and sizes, a detachable bun warmer, a variable browning control and a cancel button.

Kalorik Sunny Morning: The Kalorik Sunny Morning toaster is loaded with great features, and it has everything you need to make perfect toast. Cord storage and a slide-out crumb tray make this toaster clean and efficient, while the cool-touch and automatic pop-up and shut-off features make it safe and easy to use. Don't forget the variable browning control and the reheat, defrost and cancel buttons. The Sunny Morning toaster is white with brightly colored controls and comes with two table mats and a bread basket.
Tip from Overstock.com:

After you find the perfect Kalorik toaster, check out our selection of other Kalorik appliances, such as a blender, coffee maker or stand mixer. Overstock.com has plenty of these Kalorik appliances that are just as beautiful and functional as their toasters, such as the Kalorik Aztec coffee maker, so you can have a matching kitchen for less.

Buy Kalorik Toasters
Back to Guides Directory