Kalorik Toasters Buying Guide
by Meredith Boone
Published April 28, 2010 | Updated December 10, 2014
Kalorik was established in Belgium in 1930, and they were one of Europe's first manufacturers of small electric appliances. Their first appliance was a toaster, and now, Kalorik products include a wide variety appliances for the kitchen and all around the home, including coffee makers, handheld vacuum cleaners, and baby food makers. This Kalorik toaster buying guide will help you learn more about the brand and why one of their toasters may be right for you.
Buying Kalorik Toasters: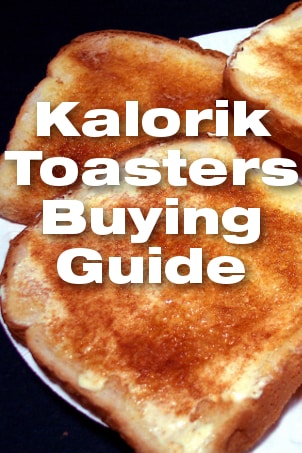 Shop Kalorik Toasters ▸
Design and production:

The sleek, shiny Kalorik toasters combine form with function for a truly beautiful piece of art. Kalorik appliances are designed in Belgium and manufactured in China.

Choose your slots:

Kalorik toasters have extra-wide slots, perfect for all types of bread, including bagels. If you're trying to choose between the two-slot toaster and the four-slot toaster, just think about how many people live in your household who like to eat toast at the same time. The four-slot toaster may cost a bit more, but it's great for big families or people who like to host brunch parties.

Control your toasting:

If you're a serious toast lover, you'll want to have complete control over the way your bread toasts. Kalorik toasters features a variety of settings to make sure your toast turns out the way you want it to, like variable browning control and reheat, defrost, and cancel buttons.

Kalorik toasters use numbers to describe the browning settings. These numbers do not refer to time, as some people believe. They are just used as the toaster's own levels of browning, with 1 being the lightest brown, and the highest number on your toaster being the brownest. Many people like to set their toaster at a mid-range number, like 4, for most breads.

Loads of features:

A stainless steel Kalorik toaster is an excellent addition to your kitchen and the perfect way to make gourmet toast at home. They are loaded with great features and have everything you need to make perfect toast. A slide-out crumb tray makes these toasters clean and efficient, while the cool-touch and automatic pop-up and shut-off features make them safe and easy to use.

A kitchen full of Kalorik:

After you find the perfect Kalorik toaster, check out our selection of other Kalorik appliances. Matching appliances look beautiful together, so complete your kitchen with a blender, coffee maker, or stand mixer. These Kalorik appliances are just as beautiful and functional as the toasters.