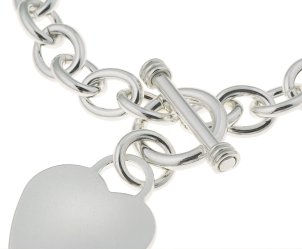 Buying jewelry is always exciting. The piece, design and style are always carefully considered, but one thing that is often overlooked is the jewelry clasp. The jewelry clasp is as important as the piece itself, as it is the foundation of the jewelry; without it, the piece could not be worn. Consider the different jewelry clasps available and how they affect the piece.
Clasp Types:

Spring Ring: This is a spring-loaded clasp on a circular ring that opens and connects to another ring to secure the jewelry. The larger the spring and ring, the heavier the piece it will secure.

Lobster Claw: Another spring-loaded mechanism, slightly larger and more elongated than a spring ring clasp, the lobster claw is usually easier than the spring ring for one person to securely fasten.

Hidden Clasp: This clasp contains a lever that, when pushed down, slides into a locking mechanism, hiding the clasp and segueing into the design of the piece.

Boxed Clasp: A boxed clasp has a crosspiece that, when pressed down, slides into a box-shaped end, securing it until the lever is pressed again to unfasten and remove it. It is used for lightweight necklaces.

Toggle Clasp: A toggle clasp features a bar on one end that slides through the center of an open ring or shaped hoop on the other end. Toggles are sometimes created as part of the jewelry's design and are mostly used on bracelets and necklaces. Although not as secure as a locking clasp, they are still an effective way of connecting the ends.

Barrel Clasp: Given the name because of its shape, the barrel clasp is a cylindrical piece that is split in the middle and has threaded ends that attach by twisting one end into the other until it fully connects. Barrel clasps are a secure way to fasten a necklace.

Hook and Loop Clasp: Made up of a hook-shaped end that is slightly open and a round or oval loop, this clasp is used mostly for necklaces and is often the focal point of the design.

Magnetic Clasp: Ideal for those who have limited hand movement, the magnetic clasp secures itself when one end nears the other end, causing the ends to snap together instantly.
Tip:

Jewelry extenders may be purchased to lengthen the chains on necklaces and bracelets. Extenders may be used with the spring ring, lobster claw or the hook-and-loop clasp styles.

Buy Jewelry
Back to Guides Directory