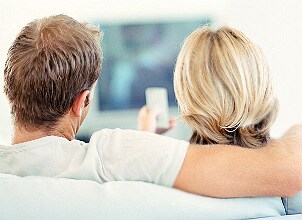 The wall between the Internet and your TV is quickly being demolished, and never has that been clearer than with the addition of online features to home theater systems. You can now incorporate many online services and networking technologies into your home theater system. Here are just a few of the options that are making their way into home theater systems for your entertainment setup.
Connecting Your Home Theater:

Wireless connectivity: Being able to get online without running network cables is a big advantage for wireless home theater systems. Built-in Wi-Fi can also be coupled with wireless speakers, which can save you from costly speaker wire installations. You'll need a compatible wireless router to work with any wireless home theater system, and you may want to check the strength of your wireless signal to the home theater area since signal strength can affect media streaming quality.

BD-Live: The BD-Live options on many Blu-ray discs allow you to download extra content for movies and participate in online features or events through compatible Blu-ray home theater systems. Just look for the BD-Live logo or check for the feature in product descriptions.

Downloadable apps: Some networked home theater systems feature a hard drive or built-in memory, allowing you to download specific applications in addition to the usual media-streaming apps standard on most new home theater systems. Downloadable apps move home theater systems closer to being fully customizable media centers.

Streaming-media apps: The primary benefit of having a networked home theater system comes from the streaming-media options available through built-in apps for online services. Connect to video-streaming Websites like Netflix, Vudu, Blockbuster and Youtube directly from your home theater system menu, or stream music from sites like Rhapsody and Pandora to take advantage of home theater speaker systems.

Control via Web browser: Some home theater systems allow you to control many menus and other functions through remote devices, such as a smart phone or laptop, via a regular Web browser. Similar control options are available through simple apps that you download to your smart phone, which enable you to use your phone or tablet as an alternate remote for compatible home theater systems.

Buy Home Theater Systems
Back to Guides Directory