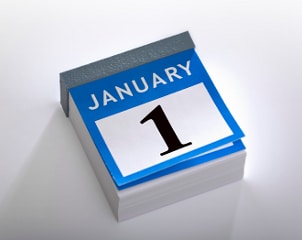 As active as your life is, you may sometimes wish your activities, appointments and plans would just fall into place, neat and organized. Even though it won't happen on its own, you can get some perspective and organize your life more easily by using calendars and journals at home and at work. Here are some points to keep in mind to keep it all organized using calendars.
Working with Calendars:

Use a household calendar. A big wall calendar can be the place in your home where everyone can check to see what's happening. Keep track of family events, chores and important dates that you want everyone to be aware of. Everyone can add information that they think is valuable, and you can use that as a guide when adjusting your schedule in your personal planner.

Separate your home and work calendars. There are certain work items that you no doubt need to have on your home calendar. But how many people at your house need to know who you're having a business lunch with on Tuesday? Keep the business stuff separate to make home planning easier to navigate.

Keep track with a pocket planner. Your daily schedule will be easier to tote around if it's in a planner or pocket calendar. You can transfer your appointments, errands and other things on your to-do list from your big calendar to your planner once a week or so.

Plan ahead with monthly calendars. Monthly calendars can help you get a view of the big picture. Mark down goals, important events and other things that you need to see coming. Check the monthly calendar once a week and adjust your personal planner accordingly.

Give everyone a personal calendar. Help everyone in your family get organized by giving them their own calendars. Everyone has their own activities, projects and plans to take care of, and a personal calendar is a good way to solidify their ideas and manage their time well.

Compare calendars often. Calendars are a great way to communicate. Update your personal calendar by comparing it to your business and big household activities. With all of your calendars synchronized, you'll be able to adapt to new plans, activities and other additions.

Buy Calendars and Journals
Back to Guides Directory