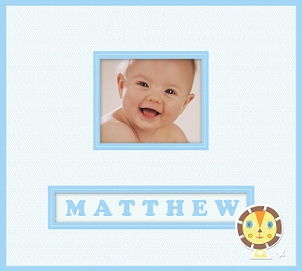 Several events in your life are worth memorializing with scrapbook albums and photo albums; events like births and weddings are life changing while graduations and moves document one's progression through life. Preserve the memories of each of your children by making baby scrapbook albums for them. Baby books make great gifts for your grown children, help you organize your boxes of photos and momentos and can become a fun pastime as you cherish those fond memories. Choose scrapbook albums that fit the theme of the child's baby scrapbook, such as a blue scrapbook for a baby boy; then get to work making it a piece of art and collection of memories with these ideas.
Baby Scrapbook Ideas:

Pregnancy: This is the time when everyone gets excited about the new life about to come into the world, so it has to be included in baby scrapbook albums. Baby bump photos and copies of ultrasounds make great scrapbook pictures, are entertaining when you review the memories later and show the growth of the baby before his birth. Photos of funny times during pregnancy, like when you dripped spaghetti sauce on your extended belly or when the cat curled up next to you while you were sleeping, belong in baby albums, too. You can also include pictures of how your life changed while you were pregnant; maybe the study became the nursery or perhaps you moved to a bigger home. Don't forget to include pictures and momentos of the baby showers friends and family threw for you. Scrapbooking ideas for baby scrapbooks might include surrounding a list of gifts and their givers with the cards and pieces of wrapping paper that accompanied them.

Birth: The big day offers lots of baby scrapbooking ideas. Some things you'll definitely want to record in your child's baby book, such as weight and length at birth and the color of the eyes and hair. Everything else you add will be fun for your older children to learn. Some ideas of other things to include in this section are time of birth, length of labor, who was present at birth or the doctor's name. The family tree is especially fitting so children can remember their places in the family or see the inspiration for their own names. Photos taken at the hospital are some of the most tender pictures because the baby is so young and small; everybody wants to see the baby sleeping in the tiny hospital nursery bed or with Mom in her hospital bed. Dad will be proud to look through the scrapbooking album and remember when he bottle-fed the child for the first time. The birth section of a baby album is also the perfect place for a copy of that child's birth certificate.

Milestones: The first year of a child's life is overflowing with milestones of physical growth and mental development. Preserving these memories in baby photo albums is essential and a great part of the fun of scrapbooking. You may have several pictures of your child next to a large stuffed animal or several inked hand comparisons to show his growth. Be sure to record as many of her "firsts" as possible: first smile, first crawl, first roll over, first teeth, first time eating baby food, first time she threw up on Grandma or her first party or holiday. All of these give her an easily visible past and make creating and looking at the baby album very enjoyable.

Decoration: The best part of scrapbooking is that it's not just about the photos. It's about decorating the scrapbooking album and creating a theme. Because everyone loves babies and making baby photo albums is so popular, your choices of embellishments are endless. Baby-related stickers abound and are the perfect flat embellishment to surround your pictures or even help hold them in place. Ribbons and glitter add to the cutesiness of the book and can sometimes be saved from baby shower gifts. Remember to keep trinkets and momentos and place them in the appropriate section of the book; a clip of the baby's hair from his first haircut will be an adorable record of a milestone while the hospital wristbands of mother and child perfectly complement pictures of his birth.

Buy Scrapbook Albums
Back to Guides Directory