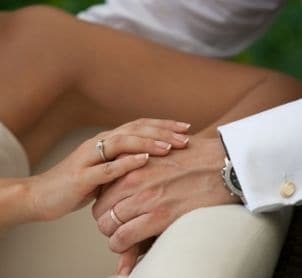 Once you've answered the important question, the wedding planning is well under way and you've set a date and time for the big day, it's time to start thinking about writing your wedding vows. Whether you plan to take traditional wedding vows during the wedding ceremony or are exchanging personal wedding vows as part of your celebration, you can write wedding vows for any style of wedding. Read on for tips on writing wedding vows for the most exciting day of your life.
Personalizing Wedding Vows:

Decide when and where you will exchange vows. If you plan to recite religious wedding vows as a major part of the ceremony, you will probably want to write wedding vows that are formal and structured. For a more laid-back wedding, especially an outdoor setting, personal wedding vows can be as free and unique as you would like. To include original vows despite reciting Christian wedding vows in a traditional wedding, consider holding a wedding vows ceremony elsewhere -- and invite only close family and friends to keep the setting more private.

Talk to your fiancee before writing vows. Decide whether the two of you plan to write traditional wedding vows together or write your own non-traditional wedding vows. Will you surprise each other with simple wedding vows or read them beforehand to prepare? Will you write religious wedding vows or keep your vows secular? Be sure you discuss your plans before writing, especially if you'll be reading them in a wedding vows ceremony or in a public setting.

Pick a tone or theme. Do you want your vows to be humorous or do you want thoughtful and romantic wedding vows? Are you planning to exchange Christian wedding vows? Would you prefer to recite non-traditional wedding vows? Determine which tone works best for you and your fiancee, since you want your vows to follow a similar outline. You should also pick a length for your vows, especially if you're reading simple wedding vows for guests.

Write this down. Once you begin writing romantic wedding vows, a few suggestions can help you when writer's block sets in. Think about your intended's best characteristics for a starting point. Then recall special memories you have together, times when you knew you were in love and the best parts of being with him or her. Finish by talking about your future together for a special touch.

Buy Wedding Planning Supplies
Back to Guides Directory