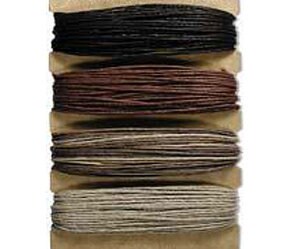 Things You Need:
Hemp twine
Scissors
Beads
Jewelry supplies and tools
Hemp jewelry items are stylish accessories that can be worn for many different occasions, and hemp jewelry making is a fun hobby. You only need a few basic materials, such as beading supplies and tools, to get started weaving your own hemp jewelry and the process is easy to learn. Hemp necklaces, bracelets, earrings and other pieces are also quite environmentally friendly due to the sustainable growing and processing practices of hemp. Hemp jewelry items make great beaded jewelry gifts and the techniques are simple enough that children can enjoy making hemp jewelry as well.
Making Hemp Jewelry:

Learning to weave hemp jewelry can be as simple or as advanced as you'd like. Weaving hemp jewelry is a versatile process. You can start out with very basic techniques and move on to more advanced methods whenever you are ready. The most basic way to weave hemp jewelry is by employing the braiding technique. Braiding hemp is just like braiding any other material. Start with three pieces of hemp twine or cord that are the same length and braid them by crossing the left piece over the middle piece, then the right piece over the middle piece, alternating until you have completed the desired length. Other process for weaving hemp jewelry include tying various kinds of knots and using four or five strands of hemp twine instead of just three. You can decide how basic or advanced you want your hemp jewelry to be and you can also find many great hemp jewelry books when you are ready to take your hemp weaving to the next level.

You can create the hemp jewelry that you desire through the use of jewelry supplies. While you may prefer to simply tie your hemp jewelry around your wrist or neck, you can also make your bracelets and necklaces more professional and easier to wear using jewelry supplies such as clasps, earring findings and backs and headpins. These supplies will allow you to take your hemp jewelry to the next level and even help you create hemp accessories that are good enough to sell or give as gifts. You can purchase jewelry making supplies on their own or through jewelry making kits.

Adding beads and other embellishments allow you to personalize your hemp jewelry. Once you have mastered the basic processes of weaving hemp jewelry, you might try adding beads, gemstones, letter blocks and other baubles to your bracelets, necklaces, earrings and anklets. If you are braiding or knotting your hemp jewelry, you can add these items as you go to incorporate them into the jewelry. You can also string beads and other items onto hemp jewelry after the braiding or weaving is completed. Adding beads, pendants and other embellishments to your hemp jewelry will give them a polished look, as well as personalize them to fit into your wardrobe.

Buy Beading Supplies and Tools
Back to Guides Directory