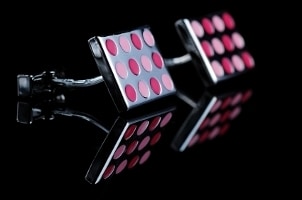 Cuff links have been around since the 17th century, and these handy pieces of jewelry can complete an outfit. Cuff links can also be worn like other men's jewelry to showcase a man's interests and add to a basic men's fashion ensemble. When you are shopping for men's jewelry and men's fashion accessories, you will find many interesting and unusual cuff links to add to your collection or give as a gift. Novelty cuff links are entertaining, and uniquely shaped cuff links are eye-catching. You can wear unusual cuff links fashionably when you follow a few basic accessorizing and jewelry tips.
Wearing Unusual Cuff Links:

Pair with neutrals: Unusual cufflinks are meant to stand out and make a statement. When you are wearing unique cufflinks, consider keeping other accessories simple. Match fruit-shaped cufflinks with a basic gold ring, for example, or wear your bright red cufflinks with a grey shirt and a black jacket. Let your unique and interesting cufflinks be the focal point of your outfit.

Contemplate venue: Unusual cuff links work best for certain events. A fun downtown party is the perfect place to wear your martini-shaped cuff links, while a wedding might not be the best venue for cartoon-themed accessories. Vintage cuff links with a neutral color, on the other hand, are great for formal events, such as weddings.

Make it personal: Unique cufflinks are the perfect way to express yourself while looking nice. Choose unconventional cufflinks that represent your hobbies, occupation or favorite vacation spot. The right pair of cufflinks can be a wonderful conversation starter and can keep your outfit from feeling too conventional.

Complement with jewelry: Men's jewelry selections, such as bracelets, necklaces, earrings and rings, are great for pairing with a set of nice cuff links. If you have a pair of fun, golf bag-shaped silver cufflinks, you can easily wear a nice stainless steel watch or add a luxury white gold ring to complete your ensemble. If you are shopping for a fantastic gift, consider wrapping up cufflinks with a matching necklace or bracelet. The man in your life will appreciate luxury jewelry and unique cuff links.

Buy Cuff Links
Back to Guides Directory