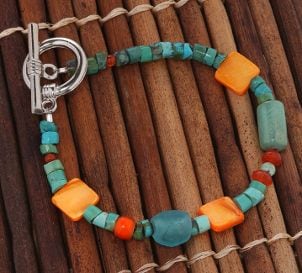 Turquoise jewelry can be worn with nearly anything and can easily be dressed up or dressed down. As this stone becomes more popular, it is easier than ever to find wonderful pieces of turquoise jewelry that will complement your wardrobe. Turquoise is a beautiful gem that ranges in color from bright sky blue to pale mint green. Turquoise is a versatile and gorgeous gem that is available in a myriad of jewelry selections, including necklaces, bracelets, rings, earrings and brooches.
Wearing Turquoise Jewelry:

Choose your color. Turquoise jewelry comes in a range of hues. Blue turquoise is generally considered the most valuable and is often set into gold and platinum turquoise necklaces, turquoise rings and turquoise earrings with other precious stones. Green turquoise offers a unique gemstone option and looks beautiful in sterling silver turquoise settings or hanging from a leather string.

Wear one statement piece of turquoise jewelry. One bold, dramatic piece of turquoise jewelry can really make a statement. Large turquoise necklace pendants, drop earrings and big turquoise rings are wonderful options and can be worn with jeans or a nice dress. When choosing statement turquoise jewelry, opt for other accessories that are simple, such as a leather braided bracelet or gold stud earrings.

Keep it simple. Turquoise jewelry also works well as a subtle accessory. A lovely sterling silver turquoise ring with a small bright blue turquoise stone is classic enough to wear every day. Turquoise earrings and bracelets with multiple stones can showcase turquoise specimens nicely and bring color to a basic outfit.

Care for your turquoise jewelry appropriately. With a rating of 5 on the Mohs Scale of Hardness, turquoise is fairly soft for a gemstone. Turquoise also absorbs oils from human skin very easily and may become discolored over time. Wear your turquoise jewelry regularly, as turquoise that is stored and not worn can actually dry out over time. Use a clean, damp cloth to clean your jewelry, but never use harsh chemicals. This porous stone will last for many years with proper care and wear.

Buy Turquoise Jewelry
Back to Guides Directory