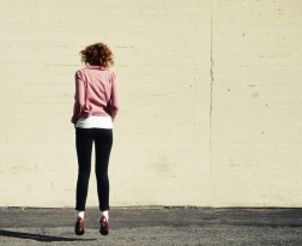 Don't let the name "skinny jeans" make you nervous; skinny jeans, or cigarette jeans, are flattering on any body type. In fact, these women's jeans are a new wardrobe staple. The stretchy fabric and tapered leg of slim jeans pair well with casual and dressy outfits alike. They key to wearing skinny jeans, however, is to find the right pair for you. Follow these tips to find a pair of flattering skinny jeans to add to your closet:
Wearing Skinny Jeans:

Flattering fit: Find a size that fits your waist comfortably. The fitted style of women's skinny jeans makes them fit more tightly than other pants. Most pairs of skinny jeans also have a bit of stretch in the legs, making it hard to size the legs correctly. Therefore, it's most important that they fit well in the waist and don't fall off your hips. If you're unsure of whether the jeans fit, try bending over, twisting and walking. The jeans should be form-fitting but also comfortable.

Wearable washes: For a pair of denim pants you can dress up, select skinny jeans that have a darker wash. Not only will doing so make your jeans slimming, but you'll also be able to wear the jeans with dressy and casual tops. For a more casual look, wear a pair of distressed skinny jeans in a medium or light wash to give you that comfortable, lived-in look.

Top it off: Pair your stretch skinny jeans with tops that hit at the hips or widest part of your thighs. Short tops with slim skinny jeans can make you look wider, rather than thin and lean. Find tops that fall below the belt line. Billowy tops are a flattering contrast to skinny denim pants. A thin belt over your natural waist is cute and trendy, and will give you a curvy silhouette. You can also always wear a vest or blazer to dress up the look.

Head to toe: Finish of your skinny jeans ensemble with a pair of heels or boots to accentuate your legs and make them look longer. Tuck your stretch skinny jeans into flat boots or knee-high heeled boots, or try a pair of cute booties to create a long, sleek look. A nice pair of ballet flats always goes well with skinny pants, since most skinny jeans hit at the ankle.

Buy Women's Jeans
Back to Guides Directory