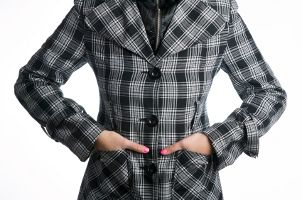 Lumberjacks love it, farmers and ranchers wear it out, and it's a staple for school uniforms: Plaid is a versatile fabric that can keep you both warm and stylish. With so many ways to wear it, however, you might think plaid is out of your reach. Read on for tips on wearing plaid women's clothing and accessories and creating your own style.
Wearing Plaid:

Choose a color and style you like. Because plaid is worn by people of all different backgrounds, it is available in many color combinations, so with a bit of searching, you can find a pattern and shade that you like. Red and green plaid pieces are often reminiscent of Scottish tartan and are pretty bold. Red and black checks, also known as buffalo plaid, have "lumberjack" written all over them, while black and white plaid looks more prep school. Determine which color or colors would fit with other pieces in your wardrobe.

Pick a flattering piece. Plaid is very bold, so it's important to wear it only where it will smooth or enhance your body. For example, avoid plaid pants if you have curvy legs or a large bottom and stay away from short plaid dresses if you have a round stomach. Plaid shirts work for just about everyone because you can dress them up or down, and plaid coats in a conservative pattern and color will always be in style.

Too much plaid is bad. If you want to look like a Scottish bagpiper, punk rocker and hunter all rolled into one, wear multiple plaid items at a time. Otherwise, wear a solid T-shirt and a dark blazer with plaid pants, try a black sweater or cardigan with a plaid skirt or wear simple shoes and a fitted jacket with a plaid dress. However, don't be afraid to mix other textures and patterns with plaid. Leather boots and jackets look fantastic with buffalo plaid shirts, and a plaid scarf can even complement a shirt with thin stripes.

Mix in other trends. Plaid can be loud or muted, depending on the rest of your outfit. Pair a plaid dress or long tunic with thick black leggings or tights and either ankle boots or flats for a contemporary look. Plaid shirts with skinny jeans and sneakers look relaxed and cool, while a trench coat over a plaid skirt looks sophisticated. Add cute heels or flats and a nice handbag to update a vintage plaid coat.

Look for accessories. To add just a pop of plaid to an outfit, add a plaid scarf or gloves. These pieces are often made of cashmere or flannel and will keep you warm. Plaid clutches and handbags are also popular, and plaid cuffs, earrings and headbands will brighten up any drab outfit.

Buy Women's Clothing
Back to Guides Directory