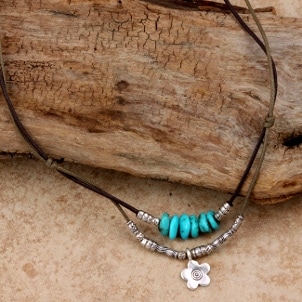 Leather necklaces are very trendy. Leather jewelry creates a great look, but it can seem like you're accessorizing just like everyone else when you choose such fashionable necklaces. It's important to maintain your own style when trying new fashions. You can easily make leather necklaces your own when you layer them and personalize them with your own pendants and charms. Beads are fantastic additions to leather necklaces, too. Use these tips to uniquely wear leather necklaces.
Wearing Leather Necklaces:

Pair leather with gold: Leather looks fabulous next to glittery yellow gold. Layering leather necklaces with yellow gold chains creates a distinctive look with a worldly vibe. Add a rose gold chain to the mix for a bit more color. Try layering long gold necklaces with short leather cords to showcase each piece individually. Top off the look with a set of stackable gold rings and a braided leather headband.

Personalize with pendants and charms: Pendants and charms look fabulous on leather necklaces. If you have a metal sensitivity or you want to keep your accessorizing edgy and masculine, then show off your gold and silver pendants on leather necklaces. Layer several charms on one leather necklace to create a look that is both trendy and unique.

Add beading: Add your own beads to a leather necklace to create a one-of-a-kind piece. Leather necklaces can easily be decorated with oversized beads. Mix and match beads with pendants to add your own creativity to a variety of leather cords. Charms, beads and pendants give you the opportunity to personalize your look with color, glitter and novelty designs.

Make your own: Making your own leather necklaces isn't difficult. You simply need a spool of leather cord and a plan. Braiding leather necklaces is easy, and braided necklaces offer a fun texture that goes well with modern attire. If you make a short necklace that won't fit over your head when fastened, be sure to invest in some jewelry findings such as clasps and hooks. Make a very trendy leather necklace by combining leather with metal rings or by braiding a gold chain right into the necklace alongside two leather pieces.

Buy Necklaces
Back to Guides Directory