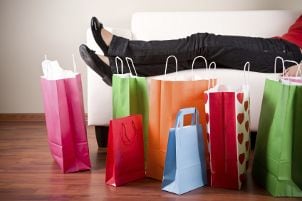 Whether you're tall and looking for shoes that won't add extra height or you simply want easy-to-wear shoes, flats are a great option. Originally inspired by flat ballerina shoes, flats now come in athletic styles, shiny leather fabrics and glittery evening designs, to name a few. Versatile and comfortable, flats add style to any outfit. Here are a few tips for wearing your flats with a number of outfits.
Instructions:

Wear your flats with shorts or cropped pants. One of the easiest ways to wear flats is with summer outfits and during warmer weather. Pair black flats with khaki-colored cropped pants and a nice blouse for a polished look. Sporty flats will make a shorts ensemble look more laid-back, while ballet flats can be elegant.

Pair your jeans with flats. Most jean styles look great with flats, which are a nice alternative to athletic shoes and boots. Be careful wearing wide-leg jeans with ballet flats, however, because they could cover the top of the shoes and make your feet disappear. Skinny jeans look nice with gold flats and sporty flats, and straight-leg jeans look fantastic with brown flats and other earthy colors. When wearing jeans with flats, make sure that the hem is not too long; you want to show off your pretty shoes, and you don't want to trip.

Put on flats with a dress. Sundresses and casual dresses that hit just above the knee look nice with flats, and they can also benefit from flats with a small heel, which elongates the legs. Wear brown flats with earthy colors and black flats with bright colors or with white and black. You can also wear flats with a long, Bohemian-style skirt for a casual look. Wear shiny gold flats with a short black dress for an unexpected evening look.

Try leggings with flats. Dancers made the leggings-and-flats look popular, but you can pull off this style regardless of your dance skills. Wear leggings under a long tunic or a skirt or layer a knit dress over your leggings. To achieve the most slimming look, wear black leggings with matching black flats. You can also wear colorful flats for a funkier look.

View All Flats
Back to Guides Directory