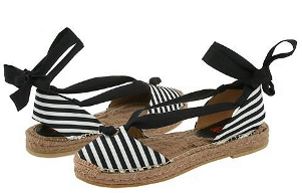 Flip flops and slides, comfortable as they are, can get bland as the summer stretches on. A dressy, easy-to-wear alternative is a pair of espadrilles, which are wedge heels that generally have fabric or straps to define the ankles. Versatile and sturdy, espadrilles can update your summer clothing and give you a chance to wear your pretty sundresses and skirts. Read on for tips on choosing espadrilles.
Instructions:

Find a durable fabric. Women's espadrilles are usually fashioned from canvas with wedges made from rope or jute or similar fibers. You can also find flat espadrilles with silk or satin uppers. The fabrics you choose depend on where you plan to wear your shoes. If you want beach shoes, look for canvas espadrilles or shoes with cloth uppers that can be easily cleaned. Leather espadrilles and wedge espadrilles are better for evening looks.

Tie your shoes. Many women's espadrilles are designed with long strips of fabric that can wrap around the ankle and lower leg. If this look isn't for you, look for ankle-tie espadrilles or flat espadrilles that won't draw as much attention to your ankles and legs. Some wedge espadrilles also have heels and vamps that don't require ties and straps.

Consider the height. Many ankle-tie espadrilles have high wedge heels or platforms to make your legs look longer and add at least three inches to your height. If you are already tall, consider flats or canvas espadrilles with a slight heel. Platform espadrilles are best for petite women or for women who want to add length to their legs, especially with skirts and dresses.

Choose a color and style. Before you pick a pair of platform espadrilles for your summer vacation, look at your wardrobe and see which color would best complement your clothing. Colorful or patterned espadrilles are a great addition to jeans or shorts, and black espadrilles look classic with most dresses. Wear brown espadrilles and leather espadrilles with most floral fabrics for a laid-back look.

Find statement shoes. Even if you have black espadrilles for your dressier clothes and brown espadrilles as standard beach footwear, it can still be fun to have a flashy pair of espadrilles for a party. Look for a pair in metallic fabrics with sequins or small jewels for a trendy style.

View All Espadrilles
Back to Guides Directory