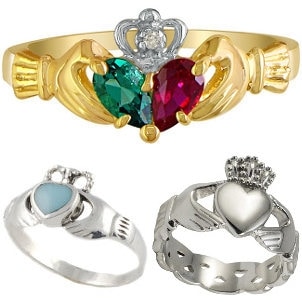 Proudly showcase your Irish heritage by wearing Celtic jewelry on your wedding day. Your wedding day is the perfect time to incorporate your personal history into your look; choosing the right wedding jewelry is as important as selecting the most flattering gown and the most stylish floral arrangements. The right jewelry will personalize your bridal ensemble, so choose pieces that project your interests and cultural identification.
Wearing Celtic Bridal Jewelry:

Necklaces: Celtic knots are very symbolic, especially for weddings. These eternal knots look lovely on simple pendants. You can hang a Celtic knot pendant on a long ribbon or a short chain to suit the style of your wedding gown. Celtic knot bib necklaces incorporate this style in a much more dramatic fashion. Cross pendants and emerald necklaces also make good wedding day jewelry choices.

Rings: The Claddagh symbol is very important in Irish culture. The design incorporates a pair of hands holding a heart, which is topped with a crown. These symbols stand for friendship, love and loyalty. The Claddagh ring was traditionally given as a wedding ring. You can feature this famous piece of Celtic jewelry at your wedding by choosing Claddagh wedding rings. If you opt for more contemporary wedding rings, you can still wear a Claddagh ring on your wedding day as a statement of fashion. Celtic knot wedding bands are also available for both men and women.

Earrings: Indulging in a pair of whimsical Irish earrings for your wedding day is a fun way to bring your personal style to your bridal ensemble. Many Celtic earrings are set with glowing green emeralds to add a touch of color to your wedding day look. Other Irish earrings feature fantastical animals or delicate clovers. Look for the Celtic earrings that will match your other pieces of jewelry and bring magic and myth to your wedding day.

Bracelets: Delicate Celtic bracelets made of twisting silver knots are the perfect accessories for your wedding gown. Wear several Irish bracelets at once to indulge in a bit of international style. Silver cuff bracelets with intricate designs also work well with a bridal ensemble.

Buy Jewelry
Back to Guides Directory