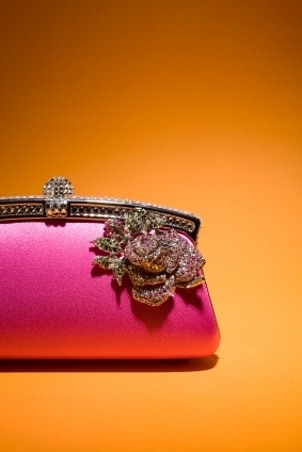 You may not be able to purchase a new handbag every time you get bored, but fabulous brooches and pins can give your current handbag collection new life. Brooches come in every color, size and style, and they quickly transform any handbag into an updated new piece. Personalization is important in the fashion world, and the right jewelry can help you achieve distinct individuality. Read on if you're ready to update your handbags with stunning and colorful brooches and pins.
Wearing Brooches on Handbags:

Go for texture: The trendiest combinations of jewelry and accessories feature texture. To achieve texture in your wardrobe, keep a variety of materials involved in your look. Leather handbags are amazing and unconventional with floral canvas brooches and elaborate pink pearl pins. Canvas bags are edgier with diamond brooches and stainless steel pins. Mix and match materials to give your handbags a stunning new style.

Embrace the rainbow: Brooches can be found in almost any color, giving you the chance to express yourself with a rainbow of hues. If your handbag collection features mainly grey, beige and black bags, then use ruby red, hot pink and neon yellow brooches to update your daily style. Grey handbags look stunning with bright blue and yellow pins and brooches. Black bags are instantly updated with pink and purple brooches. Beige and tan bags are transformed with the addition of a red or purple pin. Choose your favorite colors and paint your handbag collection with vibrant brooches.

Pick a luxurious jewel: Gemstone jewelry is great, but it's difficult to wear the same gemstone rings, necklaces and bracelets every single day without over-accessorizing. A gemstone brooch on a handbag is never too ostentatious and never gets boring. Take the opportunity to treat yourself to a fabulous gemstone in your favorite color. Semiprecious gemstone brooches and pins are available in every price range. Popular semiprecious gemstones include blue aquamarines, purple amethysts, green jade and blue and white moonstones. Many stunning brooches and pins combine several gemstones in one elaborate design. If you're looking to invest in an opulent conversation piece, look for diamond, ruby and sapphire brooches. Wear one of these amazing pins on any handbag to bring dazzling new style to your look.

Buy Brooches and Pins
Back to Guides Directory