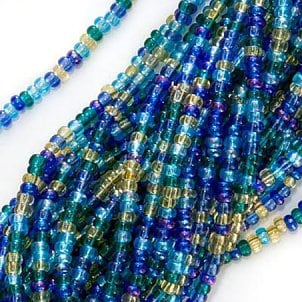 Things You Need:
Beaded necklaces
Beaded bracelets
Jewelry-making supplies
More beads
Beaded jewelry is a very popular accessory, and there are many different styles, so everyone can find fabulous beads that enhance their personal fashion statement. Beaded necklaces and bracelets add color, pattern and texture to a wardrobe; you can even design your own. This article offers ideas on how to wear jewelry and create your own style.
Wearing Beaded Jewelry:

Choose your beads. Some beads are made of real gemstones or glass, but since these are heavy and expensive, many people prefer to buy acrylic beads for fashion beaded jewelry. When shopping for beads, you have to take many things into account: the size, shape and color of the beads, the length of strands and the colors and cut of the clothing in your wardrobe. You can either choose beads that match your favorite outfits or get some that complement them with contrasting colors.

Wear your beads. Many simple necklaces and bracelets can be worn with no problem at all. Long strands can be tied or braided together to shorten them and get multiple looks. You can wind them around multiple times to turn one strand into several or to turn a necklace into a bracelet. Large, chunky beads are a lot of fun to wear, but layers of small beads can be just as noticeable. However, pairing flashy clothing -- bold patterns, fluffy trims and embellishments -- with large, bright beads can be an overpowering visual image, making an outfit seem disorganized rather than artistic. To heighten the visual impact of beaded jewelry, keep the clothing simple.

Make your own beaded jewelry. You can easily make your own beaded jewelry at home, often more cheaply than if you bought similar items in a store. Beading supplies, tools and beads of every color and size are widely available, giving you the chance to design fantastic jewelry. The type of cord you use depends on the kind of jewelry you want and the weight and structure of the beads you'll use. You can use yarn, string, leather or elastic cording for large, chunky beads with wide holes. Smaller glass beads require a finer string. If you have difficulty threading beads, consider purchasing a beading needle. Elastic string or very long cords can be tied in a knot, although smaller strands will require some kind of fastener. If one of your necklaces or bracelets should break, carefully gather the beads, restring them and use them again.
Tip:

Spark some excitement in your fashion by experimenting with beads and other jewelry trends. It's an easy, affordable way to update your wardrobe and your look. If you need inspiration, keep shopping at Overstock.com -- your online outlet for great jewelry bargains. We carry a variety of loose beads and gems in addition to our necklaces, bracelets, earrings and other accessories.

Buy Jewelry
Back to Guides Directory