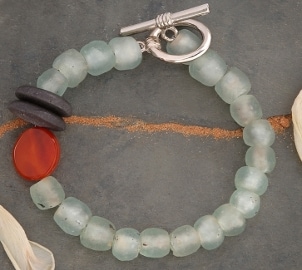 Accessorizing is an art and a way of expressing yourself. When you are dressing up for a nice night out or a formal event, you might instinctively reach for bracelets made of pearls, diamonds, gold and other luxury jewelry materials. If you want to accessorize a nice dress or sexy top in a more creative and unique way, however, you might consider wearing beads. Beaded jewelry can easily be worn with formalwear when you follow a few basic jewelry rules. Beaded bracelets and other bead jewelry go well with a sweeping red gown, a black cocktail dress or your very best tuxedo trousers. Beaded bracelets come in many different styles, so you can choose the beads that will be right for your formal wardrobe. Use our tips to wear bead bracelets and other beaded jewelry with your very best formalwear.
Wearing Formal Beaded Bracelets:

Consider color: One of the best ways to replace luxury bracelets with bead bracelets when dressing up is to choose the right hue. Bead jewelry comes in many different colors, from bright red and orange shades to subtle grey and white hues. When wearing beads casually, it is acceptable to wear the colors that speak to you. When accessorizing formalwear, however, it is a good idea to choose colors more carefully. If you are wearing a dress or top with some color, consider wearing neutral beads, such as black, navy blue or pale pink. If you are wearing a black dress, on the other hand, wearing red or blue beaded bracelets works well.

Choose size carefully: You can choose between beaded bracelets with small beads and large beads. When you are wearing a formal or dressy outfit, small beads are wonderful and can be paired with other pieces of jewelry. Wear a purple cocktail ring with your petite lavender beaded bracelet and dark grey cocktail dress. Larger beads should be worn more carefully, especially when attending formal events. If you choose a beaded bracelet with large beads, consider limiting other jewelry selections to very subtle pieces.

Select the right bead style: Beads are available in many shapes and styles, and some are better suited for formalwear. Beaded bracelets with intricately decorated beads or beads with fancy gold etchings, for example, are wonderful choices for pairing with a nice dress or an elegant suit. Beads shaped like animals, on the other hand, are typically better suited for casual wear.

Contemplate bead material: Beads are commonly made of gemstones, polished rocks, glass, gold, silver, wood and pearls. Beads made of precious metals and stones are great choices when accessorizing formalwear. Take bead material into consideration when wearing beads to a nice party or a fancy restaurant.

Buy Beaded Bracelets
Back to Guides Directory