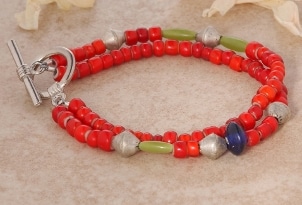 Bead bracelets are some of the most versatile pieces of jewelry available. Beaded bracelets can be feminine and dressy, bohemian and casual or dramatic and formal. You can wear bead bracelets with jeans, dresses, shorts, trousers and suits, and they can easily be paired with other bracelets and bead jewelry. Beaded jewelry can be an investment, and it can also be affordable. If you are looking to add to your jewelry collection and want to choose bracelets that will go with practically everything you own, consider bead bracelets and other beaded jewelry. Let us help you wear your beautiful bead jewelry selections tastefully while making your accessorizing personal.
Wearing Bead Bracelets:

Petite: Petite beaded bracelets are perfect for every collection because they go with everything. Delicate, feminine petite bead bracelets can be worn with a lacy dress and heels on a special date or skinny jeans and flats to a casual birthday party. Petite beaded bracelets can also be layered with other bracelets for a textured look.

Chunky: Chunky bead bracelets are dramatic and fun. Beaded bracelets made of small rocks or sizable gemstones make the natural beaded look sparkle and shine. Wear a chunky beaded bracelet to work with a demure suit or to a club with your sexy jeans and a draped silk top. Keep the look from becoming overpowering by wearing subtle, delicate necklaces, earrings and rings with your chunky beaded bracelets.

Bohemian: Bead bracelets give outfits a free-spirited tone. The bohemian look will help you feel lighthearted and open-minded and works both for the office and the weekend. Wear one beaded bracelet with a long skirt and sandals or layer several bead bracelets to wear with wide-leg trousers and moccasins.

Dressy: Beaded bracelets easily go from casual to dressy and can be paired with a nice dress or pair of pants and a sparkly top. Wear beads in place of pearls for a formal look that is unique and distinctive. Gemstone bead jewelry is especially formal and extravagant.

Meaningful: Jewelry has always been a way to express friendship, love and commitment. You can give bead bracelets to friends for a modern spin on the friendship bracelet or invest in a lovely bracelet for your wife or girlfriend. You might even consider making a bead bracelet for someone you care about. Beading and jewelry supplies make it easy to create something beautiful for someone lovely.

Buy Beaded Bracelets
Back to Guides Directory