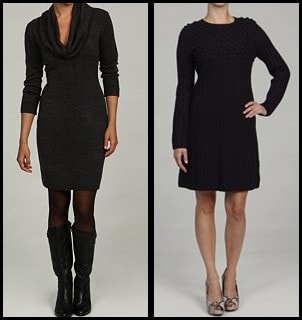 Are you looking for something new to wear? Have you tried a sweater dress? It's a preppy-meets-sexy look, and it's a versatile piece that you can wear many different ways simply by changing the way you style it. Once you find a sweater dress that you like, you'll love it even more when you can wear it different ways.
Style Your Sweater Dress:

Wear the dress alone. You can always wear a sweater dress with just a great pair of shoes and a necklace. Heels look smart and stylish, or opt for boots and add tights if the weather is especially cold.

Layer it over leggings. Thanks to the soft, thick fabric of sweater dresses, they look great over opaque leggings. Metallic or shiny leggings can add a funky look to your dress as well. Finish the look with ankle boots that match your leggings for a slimming effect. For a more casual feeling, wear the dress with jeggings and flats.

Treat the dress as a top. If your dress is shorter than knee-length, you can wear it like a tunic over fitted jeans. Skinny jeans look best, since you want to balance a voluminous sweater with slender legs. Skinny ankle length jeans would be very cute, too. Wear the outfit with either flats or ankle boots.

Add a belt. Consider wearing a belt around your waist. A skinny belt would add just a touch of color, while corset and double-buckle belts will give you an hourglass figure. A wide elastic belt would work well, too.

Add layers over it. A scarf can add a final touch to a sweater dress; knot it at your neck or drape it around your shoulders. A structured jacket plays well with the fluid movement of a sweater dress; try a cropped leather jacket if you're dressing up or a denim jacket if you're going for a casual look.
What Do You Want to Do Next?

Shop Casual Sweater Dresses
Shop Work Sweater Dresses
Shop All Sweater Dresses
See All Guides
Read More Clothing & Shoe Guides
Learn More about Women's Clothing