How to Wash Bed Comforters
by Staff Writer
In addition to being crucial to a good night's rest, clean comforter sets are also vital to healthy living. Make sure your bedding is cozy and clean by learning how to wash bed comforters. It may seem like a big job, but you'll find that it's actually a simple, painless process.
Washing Comforters: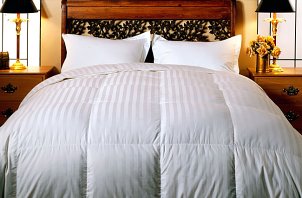 Shop Comforter Sets ▸
Things You'll Need
Large capacity washing machine
Laundry sink
Mild laundry detergent
Clothes dryer or drying rack
Read the instructions.

Make sure to read the instructions on the tag of your comforter to figure out what materials it's made of. If specific hand wash or temperature instructions are listed, don't deviate from them.

Take it to the laundromat.

If you have a goose down comforter and the instructions call for a machine wash, take it to the laundromat. There, you'll be able to use a large washing machine to ensure an effective wash. Always use cool water and gentle spin settings.

Purchase a gentle detergent.

Purchase a gentle detergent that is safe for your type of comforter. You should always avoid using detergents that contain bleach, as they can damage the comforter's outer fabric and filling.

Dry it thoroughly.

If your down comforter can be dried in a clothes dryer, choose a large capacity dryer and use the lower heat settings.

Hand wash it.

If your comforter calls for a hand wash, use either a large laundry room sink or a clean bathtub. When you hang the comforter to dry, make sure that you carefully drape the comforter out so that all sides dry equally. Drying on a rope line may reduce the chances that the comforter fabric will rebound.

Get the wrinkles out.

Once your bed comforter is dry, use an iron set to steam to smooth out any wrinkles. Make sure to check that your comforter is not sensitive to heat.

Use a top sheet sheet.

In order to avoid having to wash your comforter often, always use a flat top sheet between your comforter and you while you sleep. This method will help to keep your comforter clean, increasing the time in between washes.