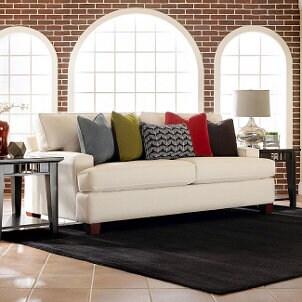 The principle of 60-30-10 is rooted in interior design theory. This concept designates a percentage to each color in a room to make your home visually appealing. According to this theory, 60 percent of any room should be decorated with the dominant color, 30 percent with a secondary color and 10 percent with an accent color. Following the 60-30-10 rule not only makes your room look better; it makes it easier to decorate because you know what to look for. To find out how to select the right area rug for your home using this method, keep reading.
Using the 60-30-10 Rule:

Decide on a dominant color. Typically, the dominant color in a room is either the color on the walls or the color of the largest piece of furniture. If you're starting from scratch when decorating a room, the most helpful tip is to paint the walls the dominant color of your choice. If you're renting and can't paint the walls, make sure the color of your couch or duvet cover is the dominant hue.

Pick a matching secondary color. When picking a secondary color, you can either choose something in the same color family as the dominant color or a complementary color. For example, if you're trying to create a peaceful space, you may want to make grey your dominant color with a dusty blue hue as your secondary color. If you prefer a bold room, you could make red your dominant color red and use turquoise blue as a secondary color. The best rule of thumb is to make the area rug and curtains account for your 30 percent secondary color, so this tip should help you narrow down your options when picking an area rug. Don't be afraid to try a multicolored area rug; just make sure the secondary color is the predominant tone.

Finish with accent pieces. If you choose a patterned area rug, picking an accent color should be easy. Just pick a color from the rug that is not the dominant or secondary color and look for vases, lamps and throw pillows in that color. If your furniture, curtains and rug are all solid colors, you'll want to look for accent pieces with texture and pattern to stop your room from appearing too flat. If you're not sure which color to pick as your accent color, try a metallic shade like silver or gold that goes with any color combination and adds a little bit of glamour.

Buy Area Rugs
Back to Guides Directory