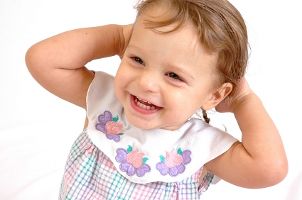 As your child becomes a toddler, it's time add potty chairs to your diapering and potty training supplies. Make potty training easier for both you and your child by giving him a potty chair that's just his size. The transition from diapering to potty training is an important step in your child's life, and having the right potty chair can make all the difference. How do you know which potty chair to choose? The following tips can help you find potty training chairs that will make you and your baby happy at potty time.
Using Potty Chairs for Potty Training:

Bright colors and fun themes: A fun potty chair with bright colors and themes designed for children will help attract your child to the chair. If you pick children's potty chairs that feature your child's favorite cartoon character or animal, he'll be more excited to make the switch from diapers. Bright colors and shapes also help the child identify the training chair as something for him; it resembles the toys and furniture in his own room. Playful potty chairs are also far less threatening than the big potty.

Let your toddler choose: Letting your child choose his potty training chair will make him that much more excited to use it. Children love getting to make decisions, and picking a potty chair that's all his own will give him a sense of ownership over it. He probably won't be able to wait to try it out. Plus, if you let him pick out the potty chair, you'll know it's one he'll like.

Use positive rewards: When your child starts using potty seats, it's important to use positive reinforcement and rewards. He'll soon learn to associate using the potty seat with good things. You may want to keep candy or stickers handy, or even surprise him with extra playtime or a trip to the park. This will encourage him to use the potty chair more and more.

Make the potty chair special: Telling your child that the potty chair is something special just for him will make him feel special when he's using it. You may even want to consider placing the training chair in your child's room to help him become familiar with it and associate it as his own.

Choose what works the best: Not all potty chairs work for all children. There are various designs of toddler potty chairs that you can use, and it's important to find one that works well for your child. Try a stand-alone training chair that is your child's size and see if he takes to it. For the child who wants to use the big potty, look for a toilet-seat attachment. Having the right potty chair can make potty training easier.

Buy Diapering and Potty Products
Back to Guides Directory