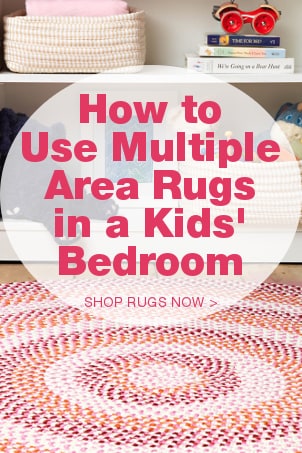 Placing an area rug in a child's room adds a soft spot for them to play and protects your floors. One of the biggest home trends right now is layering area rugs, and while you might not think this style is ideal for young kids, it can actually make their room more inviting and fun. Instead of using different textures for a subtle interior design statement, try using multiple area rugs to infuse your child's bedroom with color and pattern.
Using Multiple Kids' Rugs:

Use round rugs to create polka dots. To create a patterned floor that can easily be removed or rearranged, try using small round rugs to create a polka-dot effect. Get this look by placing three or four similarly shaped rugs all around the room, experimenting with different sizes or mixing different colors to create a look that works equally well for boys and girls. Not only does this style look cute, but it may be the start of a game.

Make patchwork pattern for different areas. Instead of purchasing one large area rug to cover the floors in your child's bedroom, try using several smaller rugs for a patchwork effect. Measure out the area you want to cover and fit rugs together like a puzzle. You can either make it perfectly symmetrical or create a more abstract free-form shape. You can also try using a solid rug for each station in the bedroom to help small children learn about daily activities. For instance, try putting one solid-colored rug in the toy storage area and one in front of the closet for getting dressed.

Layer a patterned rug on top of a solid one. This kid-friendly take on the popular layering trend uses a play rug and a standard area rug to make a fun space for children. To get the look, pick a brightly colored solid rug that is larger than a novelty rug, like one printed with a track for racing toy cars or one with letters for learning the alphabet. As your child grows, you can remove the novelty rug and use the classic solid rug as room decor.

Use two large rugs to create personal zones. If you have two children sharing one bedroom, let them create their own personal zones. Use two rectangular rugs, each that are about half the size of the room, and place them next to each other. Use coordinating colors so the effect isn't overwhelming. This trick works well for children who are a little older and want a bit more independence, and it's much more stylish than a piece of masking tape down the center of the floor.
What Do You Want to Do Next?

Shop Novelty Area Rugs
Shop Kids' Area Rugs
Shop All Area Rugs
See All Guides
Read More Home Guides
Learn More about Area Rugs