How to Use Facial Toner
by Barbara Cedillo Alvarez
Different facial toners offer different benefits. Some toners can help remove excess dirt and oil from your face, leaving it fresh and clean. Other toners soothe skin and help to restore skin's pH balance. Some facial toners will also condition your skin, leaving your face clean and moisturized at the same time. Once you have found the toner that will give you the results that you want, use these steps to incorporate facial toner into your skin care regimen.
Instructions: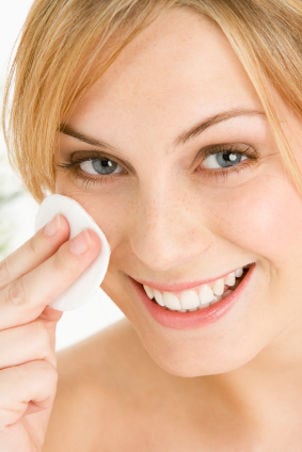 Shop Skin Care ▸
Choose the right toner.

There are many different types of facial treatments available. First, consider your skin type. Facial toner made specifically for dry or oily skin is available and can help restore balance to your skin. Toners are also available in different formulations. Liquid toners are common, but mist toners and gel toners are also available, so you can choose the one that fits your lifestyle.

Wash your face.

Facial toner is most beneficial when carefully incorporated into your skin care routine. You will get the most out of your facial toner if you use it after you wash your face because this is when your pores are open and excess oil, dirt and makeup aren't in the way. You might choose a skin care kit that includes your cleanser and your toner in the same formulation.

Carefully apply facial toner.

Moisten a cotton facial pad with toner. Move the pad gently in small circles. Don't pull at your skin and be careful to avoid the area around your eyes. Pay special attention to your forehead, nose and chin, as this area, often referred to as the "T-zone," tends to produce more oil. You can repeat this process several times with a fresh cotton pad until no more dirt or oil is detected. You can also use facial toner under your chin and on your neck.

Moisturize.

Even if your facial toner has moisturizing properties, it is important to end your skin care routine with moisturizer. Moisturizer will help keep skin hydrated, which is especially crucial during the night. If you have naturally oily skin, consider oil-free moisturizer or other formulations that will treat your skin well.