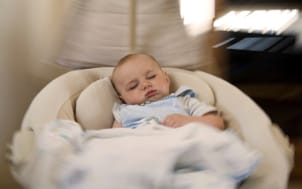 When you put your baby down for a nap, baby monitors can be your best friend. By transmitting an audio -- and sometimes even a video -- signal, baby monitors let you make sure your baby is sleeping safely and soundly without having to peek into the nursery every few minutes. You want to make sure that you get the most out of your baby monitor, however. Everything from placement to bandwidth can affect the way your baby monitor functions. Learn how to arrange and use baby monitors by reading the following tips.
Using Baby Monitors:

Placement: You want to make sure you can hear your baby's cries over a baby monitor, so placing the monitor in the right spot and position is very important. Make sure the baby monitor faces your child so it can pick up as much sound as possible. You'll want to set up audio baby monitors within 5 to 10 feet of the crib and baby video monitors where they can scan the entire room.

Portability: If you plan to do housework while your baby sleeps, you'll probably be moving around a lot, making it hard to always be within hearing range of your baby monitor's receiver. Look for baby monitors with wireless receivers that you can clip to your belt. Some baby monitors even come with multiple receivers that you can place around the house.

Frequency: Frequency is the part of the spectrum the transmitter and receiver use. There are 49 MHz baby monitors, 900 MHz baby monitors and 2.4 GHz baby monitors. The 49 MHz band is the most common, making it less desirable if your neighborhood has lots of young families. If families near you have the same frequency, you can pick up a lot of interference. The 900 MHz band is also used by some cordless phones, and 2.4 GHz is the Wi-Fi frequency, but these have shorter ranges that may reduce interference. Some models offer channel choice within their frequency range, giving consumers a better chance of having their baby monitor operate interference-free.

Bandwidth: Bandwidth describes the amount of data that a baby monitoring transmitter can send out; 900 MHz is great for the suburbs and the country, but for cities, you will probably want a smaller model, like 40 MHz, to avoid interference from cell or cordless phones, other monitors, Bluetooth technology, laptops and other electronics.

Buy Baby Monitors
Back to Guides Directory