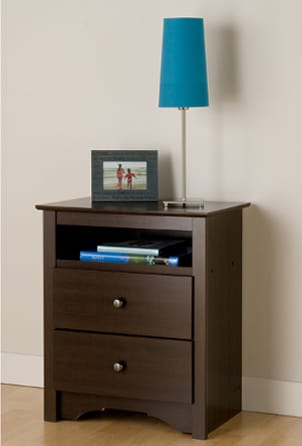 Handy and fashionable nightstands are practical as well as decorative. You can easily create a theme for your whole room around this useful piece of furniture. Use the nightstand as a decorative piece in addition to its sensible function as furniture. Nightstands are typically used for holding lamps and clocks, but you can also add other items to your bedside tables. Keep reading for more hints and tips on how to use a nightstand to its fullest capacity.
Using a Nightstand:

Place your nightstand close to your bed. Keeping your bedside table close to your bed makes it easier to access whatever it is that you've put there. Make sure it sits snuggly against the wall in order to prevent your things from falling behind it.

Add a lamp. Place a lamp on the corner of the nightstand nearest the head of the bed. In this position, you should be able to easily reach the light switch. This is handy for when you need some extra light in the middle of the night. Make sure that the lamp's base isn't hanging off the edge of your nightstand either. An unbalanced lamp is easier to knock over and break.

Add a clock. Keep your alarm clock on your nightstand for easy access. Having your alarm clock nearby is helpful when you want to know what time it is at any time of the night.

Add a phone in front of the lamp closer to the bed. If you have a land-line telephone, then place the base on the top of your nightstand. Keeping your cell phone charger nearby is another good idea.

Decorate the space. This is a perfect way to personalize your bedroom furniture. Put some picture frames, flowers or favorite accent pieces on your bedroom nightstand for decoration. Place family or vacation photos around the lamp. Put your favorite vase with freshly cut flowers near the phone charger or display souvenirs from your last vacation on the table.

Use the remaining room for nighttime items. These items may include a book, television and DVD remotes, reading glasses or a box of tissues.

Empty your pockets. Keep your wallet, keys or pocket change in the drawer of your bedroom furniture. Some tables have a mini drawer to add keepsakes or other miscellaneous items. If you put them in the same place every evening, then you'll always know right where they are when you're headed out the door the next morning.

Buy Nightstands
Back to Guides Directory