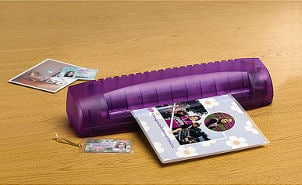 Once reserved solely for schools and offices, a laminator has become small and compact enough for use in your own home for a variety of different projects. Whether you want a hot laminator for sealing documents or a cold laminator to protect your photos, the following tips will help you use a laminator to create durable projects and preserve the items you already have.
Using a Laminator:

Determine which type of laminator is best for you. If you plan to protect heat-sensitive paper printed with ink or photos that may not stand up to heat, a cold laminator will work best because it uses an adhesive activated by pressure instead of heat. A hot laminator melts an adhesive, which is either a plastic sheet or a laminator pouch, depending on the type of laminator. Decide what kinds of projects and documents you will be working with before purchasing a laminator.

Use a laminator for scrapbooking. One of the easiest ways to use a laminator is to protect your scrapbooking pages with a durable coating. Use a pouch laminator to preserve your mementos, handwriting and photos from dust and fingerprints. Be sure to purchase extra laminating pouches, especially if you plan to laminate lots of different pages, and find a pouch laminator you can store easily with the rest of your scrapbooking supplies. Laminating pouches are also flat and compact enough to be stored with paper and other documents.

Laminate flyers and school projects. If you're in charge of a bake sale or you're simply having a yard sale, make your flyers more durable by laminating them. Feed a colorful school project poster into a laminating machine to protect it from dirt, rain or spills as your child takes it to school. Slide a book report cover into a laminator pouch and use a laminating machine to make it stiff and shiny, ensuring that your child makes a good impression when he hands in his assignment.

Preserve artwork and other documents. If you worry about the fragile drawings your child makes tearing or getting soiled, laminate them and make a "look book" he or she can thumb through later. You can also protect his or her certificates and awards in a scrapbook or binder by punching holes through the laminate.

Buy Laminators
Back to Guides Directory