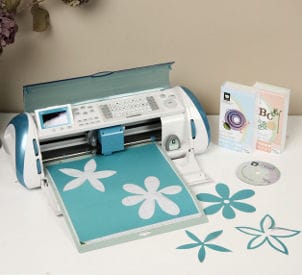 Creating beautiful scrapbook pages, cards and posters is simple with a Cricut personal electronic cutter, which allows you to produce detailed die cuts in various shapes and other Cricut crafts. Whether you purchase a Cricut Expression machine or a simple Cricut machine kit used for scrapbooking, making paper crafts will become easier than ever with the right Cricut products and Cricut cartridges. Read on for tips on using a Cricut personal electronic cutter.
Using the Cricut Tool:

Make decorations for a party. If you're throwing a birthday party for your son or daughter, why not use your Cricut electronic cutter to create fun banners, letters and shapes to decorate your home? Insert a Cricut scrapbooking cartridge into your Cricut machine to design stars, dinosaurs, cars, butterflies, animals and other shapes. Tape them to the walls or punch holes to hang shapes from the ceiling for a whimsical look kids will love. You can also use Cricut cutters to make embellishments for party hats and bags of favors.

Spruce up a boring card. Celebrate a holiday, anniversary or birthday by using your Cricut Expression machine to craft a personalized card. Grab some glue or tape to make a 3D card with shapes from your Cricut electronic cutter and make beautiful glittery words, phrases and other Cricut crafts to impress a special friend or family member.

Create incredible scrapbook pages. Cricut cutters are designed to simplify scrapbooking projects, especially if you include a lot of hand-cut shapes and lettering in your books. Pick Cricut scrapbooking cartridges with seasonal shapes, such as leaves, flowers, watering cans and snowflakes, to create photo spreads that showcase holiday events or other activities. Use your Cricut to design beautiful lettering in various fonts so that your albums look clean and professional.

Design posters and flyers. Whether your child needs an exciting poster for his or her school project or you need a colorful flyer to advertise a bake sale, put your Cricut cutting machine to work creating custom die cuts. Use your Cricut cartridges to create vivid stars for your daughter's talent show poster. Cut out seashell die cuts to advertise a beach party or make beautiful monograms to direct guests to the reception area at a wedding. Your Cricut cutting machine, whatever the style, is versatile enough to use for many different crafts and various occasions.

Buy Cricut
Back to Guides Directory