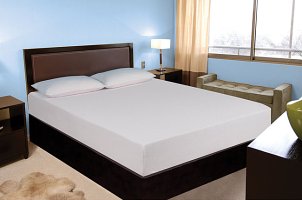 Your mattress is the key to a great night of sleep, and over the course of its life, a mattress can go through a lot. The solution to a sagging bed that leaves you perpetually waking up with back pains is to flip it. Turning your mattress will allow it to wear evenly, adding years of use to its life. Take a look at the article below to learn how to turn a mattress.
Turning a Mattress:

Remove the bedding. Remove the sheets, blankets and bedspread from your mattress as the first step. By removing the extra bedding, you won't just make the process easier; it makes you more motivated to change your bed linens after you're all done for a fresh-feeling bed.

Lift it. The second step in turning your mattress is lifting. It goes without saying that this can be hard to do without another person. While turning twin mattresses can be handled by one person, a full, queen, king or California king mattress can present difficulties for fewer than two or three people. To lift the mattress in a way that won't leave you cursing the day you decided to flip your bed, lift it high above the bed frame and, if you have one, the footboard of the bed.

Rotate it. The next step you should take in turning your mattress is the rotation itself. While the mattress is lifted above the bed frame, rotate it 180 degrees. The mattress should be turned so that where your head once rested is now at the foot of the bed.

Set it down. After you have rotated your mattress, set it back on the bed frame carefully. Make sure the mattress is firmly in place on the frame and then vacuum it to remove dust and allergens.

Outfit it with bedding. Once you have successfully turned your mattress, it's time to put the bedding back on. Make the bed up with sheets, blankets and a bedspread.

Do it regularly. For best results, your bed should be turned regularly. By rotating it at least every six months, you'll guarantee that it provides comfort for years to come.

Buy Mattresses
Back to Guides Directory