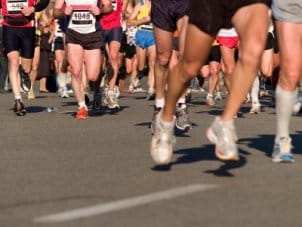 Things You Need:
Several pairs of running shoes
Training schedule
Proper nutrition and hydration regimen
Training for a marathon can be a daunting task, but with sufficient time and the proper schedule, equipment and nutrition, you can prepare for the challenge. You can become a part of that elite group who can claim to have completed a grueling 26.2-mile race.
Training for a Marathon:

Choose the right running shoes. You should buy your men's athletic shoes or women's athletic shoes from a source knowledgeable about running (which includes online stores that offer "how-to" guides and other fitting information). It is best to have two pairs of shoes so that you always have a dry pair of shoes for your run. You should buy new shoes for the actual event and start wearing them about a month before the marathon. These should be worn for 60 to 70 miles of training, including one long run. Select athletic shoes that are appropriate for your kind of feet. Some choices include cushioned, control, stability and anti-pronation.

Set a training schedule. With the proper shoes, you are ready for a training schedule. You should not begin a training schedule until you can run at least 30 minutes without stopping. You will need to personalize your running schedule to your fitness level and your current running ability, but it should include four or five runs a week.





A beginner should plan on four runs totaling about 14 miles for the first week. You can gradually increase both the total miles and the mileage of your longest run as the weeks progress, but do not increase either by more than 10 percent each week. One easy way to keep track of your miles is to use a pedometer. During the first few weeks, resting for three non-consecutive days is best. Later, you may choose to train five days a week, but even then, every fourth week or so, you should add back that extra rest day, particularly for older runners or for beginners.

Remember proper nutrition and hydration. In order to have the stamina and endurance to train four or five days per week and build up to a marathon distance, you need the proper nutrition. Your diet while training should be about 65 percent carbohydrates, 10 percent protein and 25 percent fat. Complex carbohydrates are best and include fruits, nuts and seeds, bean, grains and vegetables. Hydration is also very important as you increase the length of your training runs. When you work up to longer runs that last an hour or more, you need to carry fluids and drink six to eight ounces of fluids every twenty minutes. A lightweight hydration pack is a good way to do this.





About one week before the event, you should decrease carbohydrates to about 50 to 55 percent of total calories and scale back your training. You should run no more than four miles a day that week, with a rest day in between runs and complete rest the day before the marathon. Three or four days before the event, you should increase the carbohydrate intake to about 70 to 75 percent.
Warnings:

You should always consult a physician before embarking on such a challenging goal. Do not continue to train if you have an injury and do not exceed the maximum increases of 10 percent per week in total miles or longest run mileage. Training for a marathon can take from several months to nearly a year, depending on your starting level of fitness. A good way to check your fitness progress is with a heart monitor.

You cannot cram training into a matter of weeks or a few months unless you are already an experienced runner. Training requires a commitment to a training schedule, the proper equipment, attention to nutrition and hydration and a considerable time commitment. If you follow these guidelines, you will have an excellent chance to achieve your marathon goal.

Buy Men's Athletic Shoes
Buy Women's Athletic Shoes
Back to Guides Directory