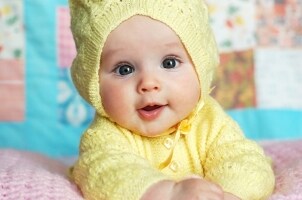 You've picked out an adorable crib. Now it's time to find the right crib mattress to go in it. Like the rest of your baby furniture, you want your crib mattress to be the very best, and that means buying a firm mattress for your baby. When you're shopping for baby mattresses, your guideline should be "the firmer, the better." A firm baby mattress that fits your crib properly can help prevent injury and SIDS. Read the following tips to help you test crib mattress firmness to ensure the mattress you purchase is safe for your baby.
Testing Crib Mattress Firmness:

Interior: The main body of the crib mattress should be very firm to prevent SIDS. There are several types of baby mattresses, including foam crib mattresses and coil crib mattresses. No one style is better than the other, so you'll want to test the firmness yourself. Place one hand on the front of the mattress body and the other directly behind it on the other side of the mattress. Squeeze your hands together as hard as you can, compressing the mattress material. A firm crib mattress will spring back to shape as soon as you release your hands and should not hold the shape of your hands at all.

Edges: The outer edges of a baby crib mattress can be very dangerous if your baby rolls or stands on the edge. Test the edges of the baby mattress by placing your hands on either side of the edge and squeezing. Like the interior of the mattress, the edges should spring back into shape immediately. Test the corners in the same way as well by attempting to fold the corners over. A firm baby mattress should spring back into shape without leaving any creases or hand impressions.

Soft spots: Once you have tested the firmness of the body and edges of your baby crib mattress, you'll want to test it for soft spots in the construction. Place the mattress on a flat, hard surface and run your hands over it while applying firm pressure. Turn the mattress over and repeat on the other side. Make sure there aren't any soft spots where the crib mattress gives way under the pressure of your hands. A good, firm baby mattress will not have any soft spots.

In the crib: After you have placed the baby mattress in the crib, check the edges to make sure they fit snugly in the crib without any space where a baby could get trapped. Test the edges and corners of a firm crib mattress by pressing on them to make sure they don't sink down next to the bars of the crib. Having firm edges and corners will further help prevent your baby from becoming trapped between the mattress and the bars.

Buy Baby Mattresses
Back to Guides Directory