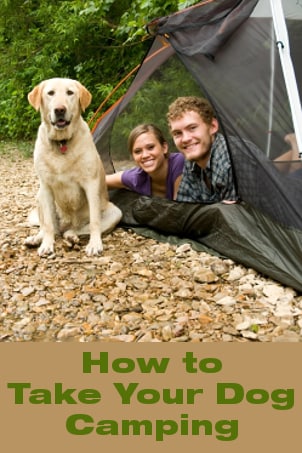 SHOP PET SUPPLIES NOW >>
If you enjoy camping, chances are so does your dog. With the right dog supplies and a sense of adventure, camping with your dog can be fun and easy. He'll enjoy the fresh air and great outdoors as much as you, if not more. Pack up the car with plenty of pet supplies and get ready for excited tail wagging as you camp, hike, and fish. He may even join in a campfire song or two with you.
Camping with Your Dog:

Plan ahead: Make sure you choose a campsite and hiking areas that are open to dogs. The last thing you want is to show up to your campsite and find out your canine friend isn't allowed to camp there with you.

Keep him close: With so many new sights, sounds, and even other animals to distract your dog, it's important to make sure he stays close by you in the great outdoors. A good harness and leash set is a great way to keep your dog from running loose. Add a doggie backpack to the combination so Fido can help carry snacks, water, and gear on hikes or to the fishing hole.

Nighty-night: Your pup is sure to be excited in a new environment, making bedtime a little harder than at home. You'll also want to make sure he's tucked in tight for the night, so he doesn't roam and disrupt other campers or run into any dangerous animals. Bring the right pet supplies to set up a cozy pet bed in the corner of your tent where your dog can nestle down with you for the night. For more curious or excitable dogs, a travel kennel can keep him secure during the night.

Hungry camper: Days filled with hiking, fishing, and exploring in the great outdoors are sure to make your dog extra hungry, and you'll want to be sure to keep him hydrated in the hot summer sun. A set of large-capacity food and water dishes ensures he'll have plenty to eat and drink when he needs it. Stock up on dog treats for him to nibble on while you're roasting s'mores.

Pesky pests: There are a lot of other creatures to encounter in the great outdoors, from fleas and ticks to wild animals. Make sure your dog is current on all his vaccinations, especially rabies, in case he has an encounter with a less-than-friendly critter. Fixing him with a flea and tick collar will help keep him -- and you -- free of itchy pests.

The ride home: Your dog is sure to leave the outdoors dirtier than when he arrived, so after a fun-filled trip, keep your upholstery safe from muddy paws on the ride home with a protective seat cover for your car.

Shop Collars & Leashes
Shop Flea & Tick Control
Shop All Pet Supplies
See All Guides
Read More Pet Guides
Learn More about Pet Care