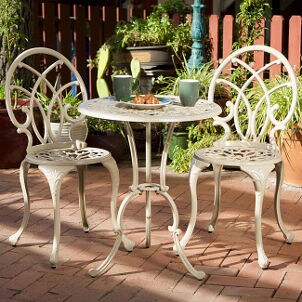 Things You Need:
Mild oil-based soap
Warm water
Clean cloth
Handheld broom
Weatherproof tarp
Paint
Hose
Dishwashing soap
You've given your guests a comfortable place to sit while they relax on your patio. When you're done entertaining, it's time to clean your patio furniture. Do you know how to do it right? Dirty tables and chairs will drive guests away, but these tips will help you keep your patio furniture inviting for your guests at the next get-together.
Caring for Patio Furniture:

Wood: Some wooden furniture can become damaged if left in damp and shady areas and is quick to absorb moisture, whether it's from the grass or the pool deck. When it is not in use, cover wooden patio furniture with a tarp. Avoid exposing your wooden patio furniture to chemicals, like pesticides and pool supplies. If your furniture is varnished, then you can wash your wooden patio furniture with gentle soap and warm water and not worry about harming the wood. After you're done, make sure to let it dry thoroughly in the sun.

Wrought-iron: These heavy-duty pieces are easy to clean with mild soap and warm water. Check them periodically for signs of weather damage, like rust. If you find some, wash the area thoroughly with soap and water, sand the area and then wipe it clean. To finish, touch up the paint in the area you sanded in order to match the rest of the patio furniture.

Plastic or Aluminum: One of the benefits of plastic and aluminum furniture is how easy they are to clean. After your party, place either type on the grass and hose them off. If there are stubborn spots, use a bit of dish soap on a damp rag to scrub them away. Leave the furniture in the sun to dry or wipe it off with a clean cloth. Don't leave either out in the sun indefinitely, though. Plastic could warp, and aluminum can get too hot to touch. Move it into the shade or store it in the garage when you're not using it.

Wicker: The texture of wicker is what gives it so much character, but that texture also means little crevices where crumbs and dirt can collect. A handheld broom can brush away most of those, and a few minutes with a hose will take care of the rest. Wicker can stand to be in direct sun more than some materials, but if you have extreme weather where you live, store it away to extend its life.

Fabric: Whether you have softened a bench with a few cushions or you have added a hammock to your garden, you have to take care of outdoor fabric. Cloth will wear out and possibly even grow mold if it's left out in the elements. Look for cloth cushion covers that are machine washable; if they get dirty, just remove the covers and wash them in the washing machine. Hammocks tend to be too large for washers, so spot treat any spills as soon as possible with a bit of dish soap and a damp cloth.

Buy Patio Furniture
Back to Guides Directory