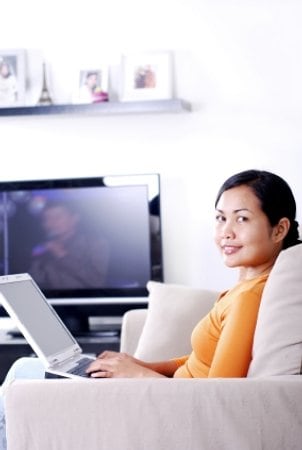 Instead of running to the video store to find a movie, stream movies online directly to your living room at the push of a button; all you need is a device for streaming movies online. You may already have a video game console, home theater receiver or television with streaming capabilities. Here are a few tips on how to view movies online through your home entertainment system.
Streaming Movies Online:

Choose an online movie-streaming service. Netflix, Blockbuster On-Demand, Hulu and Vudu are just some of the online services that allow you to watch movies online. Some services charge a monthly fee, while others feature limited free content or options to rent movies online for a small fee. Find a service that offers the features that you want to use while streaming movies. Your options for different services may only be limited by which device you choose.

Stream through a video game console. Several video game consoles allow you to view movies online in addition to playing video games. All you need to do is make sure your video game system is connected to the Internet through your home network. Here are a few consoles that feature options for streaming movies online.

Streaming-Capable Game Consoles:

PlayStation 3: The PS3 not only features a built-in Blu-ray player and great games. You can also browse the Web and stream movies online through services like Netflix.

Xbox 360: Your Microsoft Xbox 360 also features support for Netflix. You can also go online and stream videos from other video services.

Nintendo Wii: Netflix has been available on the Wii for a while. Controlling the console while you watch movies online is easy with the system's wireless motion-sensing controllers.

Watch movies through your computer. Both laptop and desktop computers can easily be connected to an HDTV, making it simple to watch full movies online through your computer. Streaming HD movies may require that your computer have an HDMI-out port or an HDMI video card featuring HDCP support.

Choose another streaming device. New devices are starting to include support for streaming movies online. Check for home theater systems, Blu-ray players, DVRs and HDTVs with support for streaming movies online. These devices may also offer other online services, such as streaming music and Web browsing, too.

Connect your streaming device to the Internet. If you have a wireless network set up at home, you can connect Wi-Fi capable devices, as long as they're compatible with your Wi-Fi signal. You can also use Ethernet and USB connections to connect streaming devices to your wireless router or modem. If your device isn't wireless -- or a wired connection isn't practical -- you can find a wireless adapter to stream movies online through your Wi-Fi connection.

Buy Video Game Consoles
Back to Guides Directory