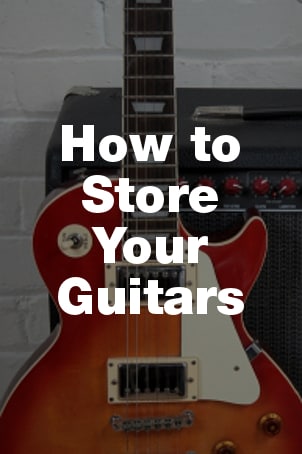 SHOP GUITARS & AMPS >>
When you invest in a guitar, you want to make sure it lasts as long as possible and keeps producing a great sound. Since most guitars are made from wood, they require mild conditions to keep them from warping or cracking. The type of climate you live in can be a big factor in determining how you store your guitar. For dry areas, storing your guitar in a case with a humidifier is your best choice. If you live in a humid climate, try keeping your guitar on a wall hook since that will give it a chance to air out. Here are a few more tips and guitar storage ideas.
Storing Your Guitar:

Wall-mounted hooks: A well-made guitar is a work of art. For this reason, many people prefer storing their instruments in plain sight. If you want to hang a guitar on the wall, it's important to make sure that the hooks are stable and easy to use, and that they won't rub against your guitar. Look for double-pronged hooks that attach to the wall with a hinge for easy release of the guitar. You'll also want to make sure the prongs that hold the head of the guitar are covered in padding or rubber to prevent scratching. Hang hooks in a straight line, so you can display multiple guitars across your wall.

Guitar stands: If you have the floor space, a guitar stand can be an excellent affordable storage option. Look for one that is sturdy and solid, so your guitar will be secure when placed on the stand. When you're shopping, you'll see stand that just hold the guitar at the base and some that also hold it at the neck, so you'll want to choose how much support you prefer. You'll also need to make sure that the prongs are deep enough for your type of guitar. Note that some stands fold up, so you can carry them with you and use them wherever you go.

Padded cases: If you travel frequently with your guitar, a padded case is your best storage option. These cases are usually made from nylon and have a foam core. The structure of these cases makes them lightweight and easy to transport. If you do a lot of walking or biking with your guitar, look for a case with straps that you can wear like a backpack. Because the cases zip tight, keeping a humidifier in them is not recommended. For that, you'll want a hard-shell case.

Hard-shell cases: These traditional cases are secured with a latch and usually have a handle for carrying. Since hard-shell cases are rigid, you'll need to find one that fits your guitar's exact dimensions. Typically, hard-shell cases are made to best fit acoustic guitars, so keep that in mind if you want something to store your electric guitar. A hard-shell case can house a small sponge or humidifier, guitar picks, and other guitar accessories in a small box inside the case.

Shop Guitar Accessories
Shop Guitar Packages
Shop All Guitars & Amplifiers
See All Guides
Read More Toy & Hobby Guides
Learn More about Musical Instruments