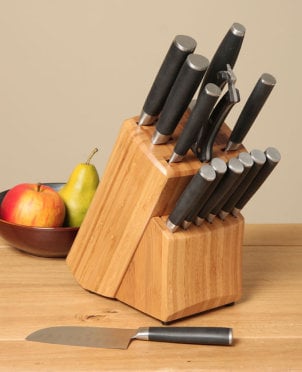 Things You Need:
Knife block
Knife drawer tray
Magnetic knife rack
You have spent a lot of time and effort in selecting your cutlery and now you want to know the best way to store your knives. Proper knife storage will help extend the life of your cutlery and maintain its beauty. The following steps will provide some of the best methods of knife storage. If you store your knives correctly, your knives will last longer and perform better for many years to come.
Storing Your Cutlery:

Cleaning: Before looking for cutlery storage, you want to make sure that the knives are clean. Wash and dry your knives by hand, even if the manufacturer claims that they are dishwasher-safe. Be sure to scrub the serrated edges of your knives to remove any food particles, which can get caught in your knife holder. Avoid letting your cutlery soak in the sink and don't leave highly acidic foods, such as tomatoes and citrus juices, on your knives, especially if you'll be storing them in a wood knife block.

Storage: Storing your knives in a kitchen drawer will scratch and dull the blades. Store your knives in a knife block, an in-drawer knife tray or on a magnetic knife rack. Make sure that the knives do not touch each other. Store your knife block in an area that is neither too hot nor too cold. For instance, you do not want to store a wood knife block on top of the refrigerator or the stove or in a cold storage area. If you'd like a knife holder that won't take up counter space, try a magnetic knife strip you can hang on a wall near your cupboards.

Safety: If you use a magnetic knife strip, be sure to store it on a wall that won't be bumped frequently and ensure that the strip is mounted securely so that knives won't fall. You'll also want to store your knife rack carefully so that the knives do not dislodge easily. Don't leave knives within the reach of children; either lock them in a drawer or put them high enough that they are out of reach.

Buy Cutlery
Back to Guides Directory