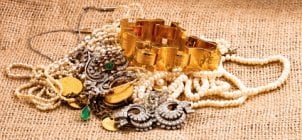 If you have a collection of earrings that keep getting tangled, broken or lost, it's time to figure out a way to store and display them. In addition to traditional jewelry boxes, there are simple, inexpensive organizational solutions for the pile of earrings on your dresser. Follow these tips to find (or make) a jewelry holder that will effectively display and protect your earrings.
Instructions:

Get framed. You probably have old picture frames lying around your house that no longer have photos in them. You can use one to make an earring display with these steps. Take out the glass and cut a piece of cardboard to fit inside the frame. Using a small craft punch, punch several small holes into the left and right sides of the cardboard backing. Next, find a piece of colorful ribbon and string it through each hole. Display your earrings along the ribbon and then attach the cardboard backing to the frame. Use a removable tape or flap to allow easy access. You can also prop the frame against a wall, so you can easily take out your earrings to wear them. Opt for a picture frame that complements the style and type of the earrings you are displaying. For example, display silver earrings in a silver frame.

Put me on display. Use an earring display case to showcase earrings by style, stone or size. Display cases are designed for pierced earrings, includinghoop earrings and chandelier earrings as well as clip-on earrings. Some earring display cases resemble miniature bookcases and provide shelves for earrings to be placed on for viewing. Others incorporate a hanging wire or penetrable board or backing so earrings can be posted to the back of the display case. To accommodate clip-on earrings, many of these cases also offer single or double "shelves" for additional display space.

Hang them up. Hanging hoop earrings and chandelier earrings from plastic, canvas or wire mesh is a great way to save space and display your prettiest jewelry. A corkboard can also hold silver earrings and necklaces; simply use pushpins to keep them in place.

Go to the kitchen. If you're looking for an ultra-cheap solution to your pierced earring storage problems, make a stop in your kitchen. Clean egg cartons and ice cube trays are an easy way to keep your earring pairs separated into compartments. If you've finished your prescription, use a seven-day pill box to separate stud earrings from your other earrings.

Use hanging cards. Stud earrings and shorter earrings are stored best on single cards, which you can either purchase or make yourself. To make your own, purchase 3-inch by 5-inch cards or small cardstock and punch small holes to push the earrings through. You can also reuse old business cards or greeting cards.

View All Jewelry Boxes
Back to Guides Directory