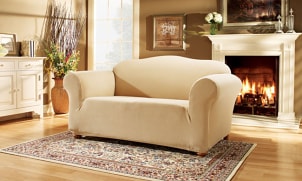 Things You Need:
Tape measure
Damp washcloth
Non-skid mat or shelf liner
Dowel
If you are tired of looking at the worn-out upholstery on your sofa or just want to redecorate without the expense of buying all new furniture, then a furniture slipcover might be the perfect solution for your space. Practical, inexpensive and available in a wide range of styles and sizes, slipcovers are an easy way to extend the life of your existing furniture.
Slipcovering Furniture:

Measure for a good fit. Before you buy a chair cover, sofa cover, futon cover or ottoman cover, measure the piece of furniture carefully. To get the best fit, go with the smallest slipcover that will work with the dimensions of your sofa, couch, futon, chair or ottoman.

Design and style. Purchase a furniture slipcover that works with your design scheme and furniture style. Heavy, textured fabrics are easier to work with than flimsy textiles, but you can make either work with the right techniques.

Prepare the slipcover. Toss the slipcover into the dryer with a damp washcloth to help get rid of the wrinkles in the fabric from packaging. Tumble the slipcover on warm for 20 minutes.

Prepare the furniture. Remove the furniture cushions and place a non-skid mat or shelf liner beneath them. This will help keep the cushions from shifting and causing wrinkles in the slipcover.

Smooth the slipcover over the furniture. Place the slipcover on the furniture piece as soon as it comes out of the dryer. Start at the center of the chair or sofa, smoothing the slipcover along the back and work your way to the arms of the piece. Adjust the bottom of the slipcover so it is even along the floor.

Tuck and tighten. Tuck in all of the excess fabric, starting from the center of the slipcover and working over to the arms. Push the fabric as deep into the crevices as you can get it to go.

Hold it in place. Insert a wooden dowel into the crevice behind the cushions. This will help hold the fabric in place and keep it from pulling out.
Tip:

Use a wooden spoon to help you tuck the slipcover fabric into the crevices of the furniture.

Buy Slipcovers
Back to Guides Directory