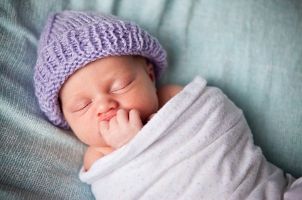 Having your first child is exciting, and shopping for the baby is a fun way to prepare for her arrival. When it's your first baby, however, it may be overwhelming to determine what you need for your child. You could end up over purchasing or under purchasing baby supplies. The following tips are all about what you need for your baby and how to shop for him.
Shopping for Your First Baby:

Baby clothes: It's easy to see your little one in every cute little outfit. You'll want to remember to be practical when shopping for baby clothes, though, and buy the basics first. Baby bodysuits are a necessity, and you're likely to go through a lot of clothing changes in a day. Look for basics, like bodysuits, sleepers and socks, in packs so it's easy to stock up. Babies grow fast, so make sure to buy plenty of clothing in all sizes. You'll need the fewest clothes in newborn sizes and more outfits for babies 12-18 months old.

Diapering: Every parent with a new baby knows that diapers are a necessity and that your baby will go through several of them a day. Prepare for your baby by purchasing plenty of diapers in a few different sizes. You'll also want wipes, diaper rash cream and changing pads for changing your baby's diapers. Carry it all in a convenient diaper bag when you're on the go and stock up at home, too. You'll want to choose a changing table with plenty of storage for diapers, wipes and even a few changes of clothes.

Feeding: Whether you choose to breast feed or bottle feed, feeding your baby not only nourishes him but also helps develop a bond between child and parent. You'll want all the essentials, like bottles, formula and burp cloths to help make feedings easier. Mothers who choose to breast feed will also want nursing pads and breast pumps. A breast pump is handy when you want to store extra milk in the fridge or when you're going to be away from your child during his feeding schedule. Finding a quiet, comfortable place to feed is also helpful, especially with newborns. Invest in a rocking chair or glider you can sit in as you feed your infant.

In the nursery: Prepare the nursery for the arrival of baby by filling it with furniture, cute decor and everything you need to make your little one comfortable and safe at home. You'll want a nursery furniture set: a crib, a dresser and a changing table. Many parents choose to add a rocking chair, baby swing and nightstands to complete the room. You'll also want to purchase a baby monitor for the nursery so you can keep tabs on your baby while she naps in her crib.

On the go: You want to keep your baby safe, comfortable and happy when you leave the house. Investing in a good stroller makes it easier for parents and baby to enjoy a walk together. If you would like to take your baby with you on your morning jog, look for jogging strollers that can handle the speed bumps of jogging. In the car, a car seat is an absolute must. Infants need a rear-facing car seat, and older babies can ride in front-facing car seats. A convertible car seat is perfect for parents who want to reduce car seat costs. It's important to only buckle your baby into a car seat meant for her size and age. Once your baby has exceeded maximum height and weight limits, purchase a larger car seat to keep her safe.

Buy Baby Products
Back to Guides Directory