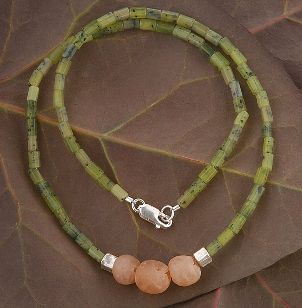 Jade jewelry comes in many different styles, colors and varieties. Cultures all around the world celebrate jade's beauty in all types of jewelry, including jade bracelets, rings, necklaces and earrings. Jade can be polished into beads, carved intricately or be combined with other gemstones to create jewelry that is stunning and mystical. In many Asian cultures, jade represents virtue and love. You can add jade gemstone jewelry to any outfit with gorgeous jade bracelets. Take advantage of this beautiful, moderately priced gem with a jade bracelet or two.
Shopping for Jade Bracelets:

Select a bracelet style: Jade bracelets are available in a range of styles. Beaded jade jewelry features strands of continuous beads or jade beads mixed with other gemstones. Beaded jade bracelets are classic and versatile. Jade bangle bracelets are lovely, dramatic gemstone jewelry options. Jade bangles and cuffs are available in many different widths and styles to suit your fashion tastes. Use cuffs and bangles to add jade jewelry to a pair of jeans or a nice dress, or enhance a workday outfit with a bohemian-style beaded jade piece.

Choose a jade color: In addition to the classic green shade, jade is found in blue, purple and pink hues. Nephrite, jade's cousin, can be grey, green, yellow, brown and white. Green jade and nephrite are typically more valuable, but purple, blue, pink or grey might be better suited to your wardrobe and fashion preferences. Choose pink and yellow jade gems for cheerful spring jewelry or blue and grey stones to accent muted, neutral winter outfits.

Consider jade gemstone size: You might know right away that you want a dramatic jade bracelet with large gemstones or you might be sure that you prefer subtle jade jewelry with petite jade stones. If you are not sure which gemstone size will suit you best, consider your wardrobe and personality. Larger stones, for example, are great for statement bracelets and will satisfy consumers who love to accessorize boldly. Small gemstones, on the other hand, are better for daily wear and mixing and matching. You can stack a small, simple jade bracelet with a gold chain bracelet and other gemstone pieces or keep it simple by wearing it alone.

Be attentive about quality: There are several things to remember when choosing a quality jade bracelet. Jade gemstones can be treated to enhance their appearance, so be certain you know everything about the jade in the bracelet you select. Choose accent materials that will be worth the price and satisfy your tastes. Gold jade bracelets, for example, are good investment jewelry choices, while jade on a leather string will likely be more affordable and become the perfect casual jewelry piece.

Buy Jade Bracelets
Back to Guides Directory