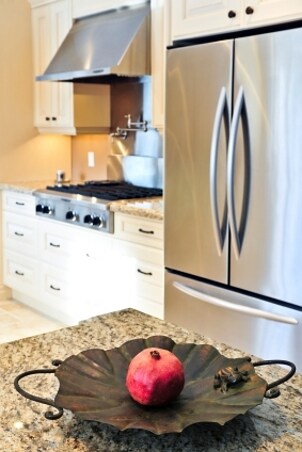 As the most frequently used appliance in your kitchen, your refrigerator is the centerpiece of the entire room. You'll likely keep your new refrigerator for ten years or more. So, the more you know about selecting the right fridge, the more you're likely to enjoy using it and save money on energy costs. Here are some steps to follow to make sure you cover the important points in choosing your new refrigerator.
Shopping for Refrigerators:

Measure available space for the fridge. If your current fridge sits in an enclosure of cabinets, countertops or walls, you'll need to know the maximum amount of space you have. If the fridge you want is too big for that space, you may have some remodeling to do.

Choose a fridge style. There are advantages to each type of fridge. Large refrigerators have bigger capacity and lots of storage options. A compact refrigerator will consume less energy and will work better in tight spaces than large models. Side-by-side refrigerators tend to be more energy efficient than French door refrigerators, but having the freezer drawer on the bottom lets you get into the fridge without hunching over. Which style you choose is really a matter of taste and convenience.

Look at the shelves and doors. A lot of your refrigerator's storage is in the doors. Do you want to be able to store soda bottles and milk in the door? Make sure your fridge has big door compartments. Adjustable shelves allow you to customize your storage space for maximum efficiency, especially if the fridge has split-level shelving.

Advanced features. Some refrigerators feature separate thermostat controls for the fridge and the freezer. Some models have LCD displays and controls right on the door and let you know if the temperature in the fridge rises to a dangerous level that might allow bacteria to grow. Automatic defrost is common, using internal heating coils to melt frozen water vapor so you won't have to chip away the ice by hand. Then there are the icemakers and in-door water and ice dispensers. Decide what you and your family are likely to use and what you can do without.

Energy efficiency. Because it's always on, the refrigerator is the largest energy consumer in your house. Look for energy ratings and insulation ratings. A well-insulated refrigerator, with a good energy rating, will be more efficient and could lower your electric bill considerably.

Warranty. With a big purchase, like a refrigerator or other large appliance, it's always wise to get a warranty. The warranty covers you in case the compressor or other components in your fridge should suddenly fail, and it can save you hundreds of dollars in parts and labor.

Buy Refrigerator
Back to Guides Directory